Kelce family advocates for NFL stadiums to use grass fields after turf injury
It's no secret that NFL players have been pushing to get rid of turf for years, but on Wednesday's episode of the New Heights podcast, Philadelphia Eagles center Jason Kelce advocated for stadiums to start using real grass for their fields.
The debate of grass over turf reignited at the beginning of the season after New York Jets' quarterback Aaron Rodgers suffered an Achilles injury. And this week's discussions of abolishing turf fields comes after Kelce's brother, Kansas City Chiefs tight end Travis Kelce, suffered an ankle injury during a match against the Minnesota Vikings at U.S. Bank Stadium.
"My ankle kind of slips for a couple of inches, and then it finally grabs on the turf," Travis Kelce explained about the incident that caused his right ankle injury. "And that's been the knock is that when you do slip, you don't just slip right through the grass."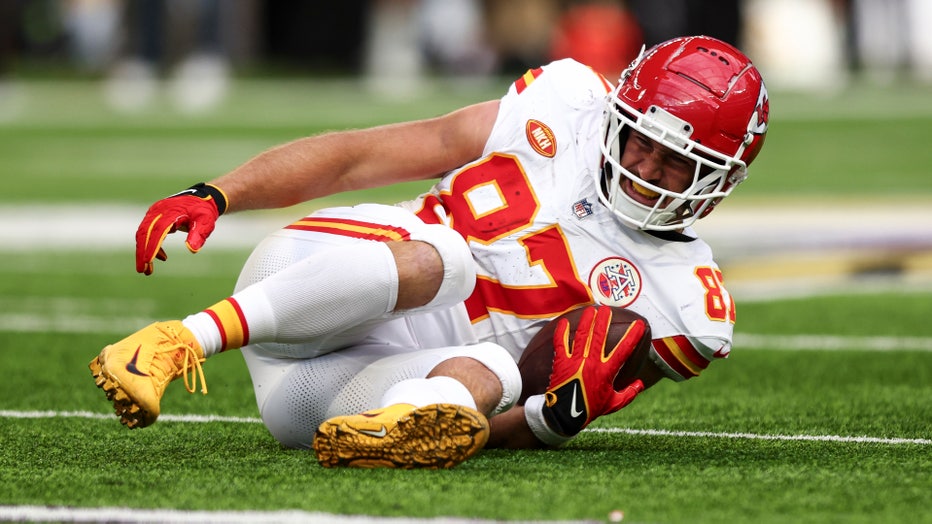 Travis Kelce #87 of the Kansas City Chiefs winces in pain after sustaining an injury on a play during the second quarter of an NFL football game against the Minnesota Vikings at U.S. Bank Stadium on October 8, 2023 in Minneapolis, Minnesota. (Photo b
Kelce's injury has been common among other NFL players on turf fields. So much so, the National Football League Players Association has called for grass at all stadiums on more than one occasion. The NFLPA says that players suffered more non-direct contact injuries on turf than natural grass and that football players are 'significantly safer' on grass than turf. 
So, what could NFL stadiums do in order to avoid injuries on turf? Jason Kelce said it's as easy as growing your own grass field. 
ARTIFICIAL TURF VS. REAL GRASS: NFL'S ONGOING PROBLEM WITH PLAYING SURFACES
"We need to get rid of turf altogether," Jason said on the podcast. 
And what about the indoor stadiums, you may ask? Well, he's got a solution for that, too.
"They've got UV lights. You can grow grass inside," he says firmly. "We can grow grass indoors. All right. I don't want to hear this nonsense."
How have indoor stadiums grown grass inside?
While ultraviolet lights are a perfectly good solution for indoor stadiums, there may be a simpler solution.
Take Allegiant Stadium in Las Vegas or State Farm Stadium in Glendale, Arizona, for instance. Both are desert stadiums but have installed a retractable field, which allows the grass field to be moved outside for the sunshine and back again for games. 
"The roll-out natural grass playing field is contained in a single 40-inch-deep tray measuring 234 feet wide and 403 feet long," State Farm Stadium said. "Rolling on 546 steel wheels which rest on 13 railroad-like tracks, the field travels the 740 feet inside or out of the stadium."
HOW SUPER BOWL LVII PUTS A SPIN ON THE CLASSIC GRASS FIELD
The stadium has a special crew that maintains the grass field to battle the extreme heat and drought.
And even if you can't successfully grow and upkeep grass, some NFL teams even go so far as having sod shipped in several times per season. 
The cost weather takes on natural grass
Like all lawn care, temperatures, soil moisture and precipitation are key to properly maintaining grassy surfaces. 
And while the Las Vegas and Glendale stadiums may have it easier, cold weather comes at a cost. 
It's estimated a natural grass field could cost a cold-weather team $2 million to $3 million per year to maintain, including $400,000 each time it's replaced, according to ESPN and a professor of turfgrass research at Michigan State. 
NFLPA shows alarming statistics in grass vs. turf debate
Data provided by the National Football League Players Association showed that during the 2022 NFL season, players suffered more non-direct contact injuries on turf than natural grass.
"Grass is a significantly safer surface than turf," JC Tretter, NFLPA president and author of the online post, said.
The association reviewed past data and found that 10 of the previous 11 years showed a considerably higher injury rate on synthetic versus natural surfaces. The NFLPA noted 2021 was likely an anomaly where the trend flat lined but increased again in 2022.
"Last year, the gap – much like the NFL's credibility with players on this issue – was as wide as it has ever been, proving that (as the NFLPA suspected) 2021 was, in fact, an outlier," Tretter wrote.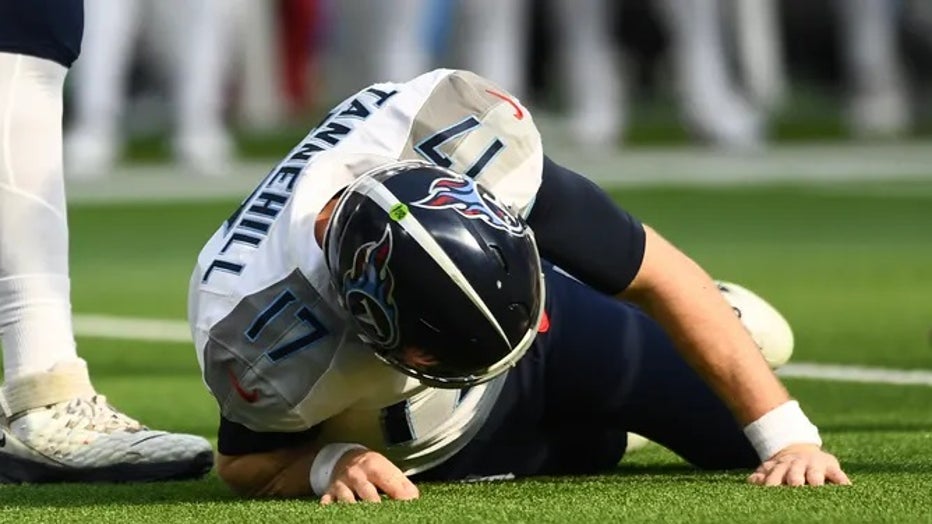 Tennessee Titans quarterback Ryan Tannehill (17) lays on the turf after being injured during the NFL regular season game between the Tennessee Titans and the Los Angeles Chargers on December 18, 2022, at SoFi Stadium in Inglewood, CA. (Brian Rothmull
"The committee, including the NFLPA's experts, believe that simply playing on natural grass is not the answer to this complex challenge. Some artificial turf surfaces have a lower injury rate than some grass fields, and some grass fields have a lower injury rate than some artificial surfaces," Jeff Miller, the NFL's executive vice president of communications, public affairs and policy, said. 
Miller went on to say that the league's goal is to decrease injuries on all surfaces. 
"There are no simple answers, but we are committed to the substantial, ongoing work with the players and their expert advisers to make the game safer."
CHICAGO BEARS INSTALLING NEW TURF AT SOLDIER FIELD AHEAD OF SEASON OPENER AGAINST 49ERS
Kelce remains questionable for Thursday's Broncos-Chiefs game in Kansas City. He was a limited participant during the Chiefs' practice on Tuesday. 
Which NFL stadiums have artificial turf, and which NFL teams have real grass?
Here is a full list of the playing surface for each NFL stadium: 
Arizona Cardinals State Farm Stadium: Bermuda grass
Atlanta Falcons: Mercedes-Benz Superdome: FieldTurf CORE
Baltimore Ravens M&T Bank Stadium: Bermuda grass
Buffalo Bills Highmark Stadium: A-Turf Titan
Carolina Panthers Bank of America Stadium: FieldTurf
Chicago Bears Soldier Field: Bermuda grass
Cincinnati Bengals Paycor Stadium: UBU Speed Series S5-M Synthetic Turf
Cleveland Browns FirstEnergy Stadium: Kentucky bluegrass
Dallas Cowboys AT&T Stadium: Hellas Matrix Turf
Denver Broncos Empower Field at Mile High: Kentucky bluegrass
Detroit Lions Ford Field: FieldTurf Classic HD
Green Bay Packers Lambeau Field: Desso GrassMaster
Houston Texans NRG Stadium: Hellas Matrix Turf
Indianapolis Colts Lucas Oil Stadium: Shaw Sports Momentum Pro
Jacksonville Jaguars EverBank Stadium: Bermuda grass
Kansas City Chiefs GEHA Field at Arrowhead Stadium: Bermuda grass
Las Vegas Raiders Allegiant Stadium: Bermuda grass
Los Angeles Chargers SoFi Stadium: Hellas Matrix Turf
Los Angeles Rams SoFi Stadium: Hellas Matrix Turf
Miami Dolphins Hard Rock Stadium: Bermuda grass
Minnesota Vikings U.S. Bank Stadium: UBU Speed Series S5-M (turf)
New England Patriots Gillette Stadium: FieldTurf CORE
New Orleans Saints Caesar's Superdome: FieldTurf Revolution 360
New York Giants MetLife Stadium: UBU Sports Speed Series S5-M
New York Jets MetLife Stadium: UBU Sports Speed Series S5-M
Philadelphia Eagles Lincoln Financial Field: Desso GrassMaster
Pittsburgh Steelers Acrisure Stadium: Kentucky bluegrass
San Francisco 49ers Levi's Stadium: Bermuda grass and Perennial Ryegrass mixture
Seattle Seahawks Lumen Field: FieldTurf Revolution 360
Tampa Bay Buccaneers Raymond James Stadium: Bermuda grass
Tennessee Titans Nissan Stadium: Bermuda grass
Washington Commanders FedExField: Bermuda grass