Kendra Scott unveils new Women's Entrepreneurial Leadership Institute at UT-Austin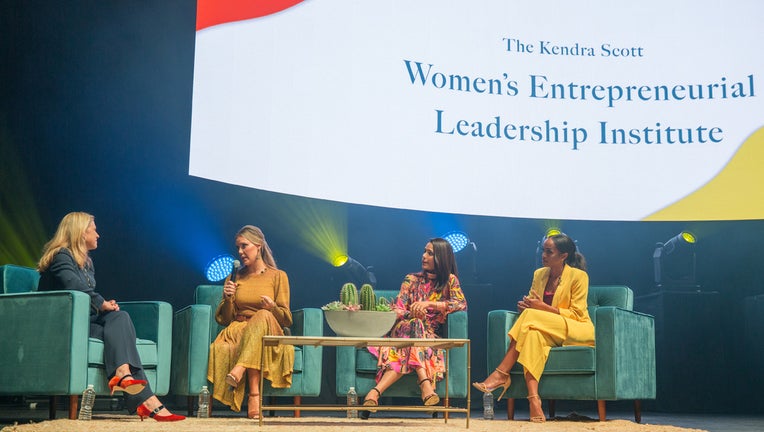 article
AUSTIN, Texas - Kendra Scott and the University of Texas at Austin recently celebrated the Kendra Scott Women's Entrepenurial Leadership (WEL) Institute with a launch event on September 24.
The event was held at UT Austin's Bass Concert Hall and included special appearances from actress Freida Pinto and television personality Rachel Lindsay.
The WEL Institute will be open to all UT Austin students in Spring 2020. It's expected to serve as a community of diversity, inclusion and enterpreneurship and to help empower women to advocate for themselves.
Programming for the Institute is expected to include the following:
A women's leadership workshop series which will allow students to learn from and network with entrepreneurs and leaders across various industries
Internship program
Speaker series featuring industry leaders
Campus wide venture funding opportunities
Change the World Women's Leadership Summit
Kendra Scott Consumer Products Entrepreneurship Practicum at UT"s McCombs School of Business
Experiential accessories design and merchandising course at UT's College of Natural Sciences
Kendra Scott Studio Partnership at UT's College of Fine Arts which will feature a three hour seminar course hosted at the Kendra Scott headquarters and be centered around the Kendra Scott Design process.
Leadership training and mentoring
Kendra Scott is the CEO and designer of her namesake fashion accessories brand which has more than 2,000 employees and more than 100 standalone stores across the U.S. Since 2010, the company has given back well ovver $30 million to local, national and international causes.
Get more details about the company and what it does here.