Key figures in trial of officer who killed Philando Castile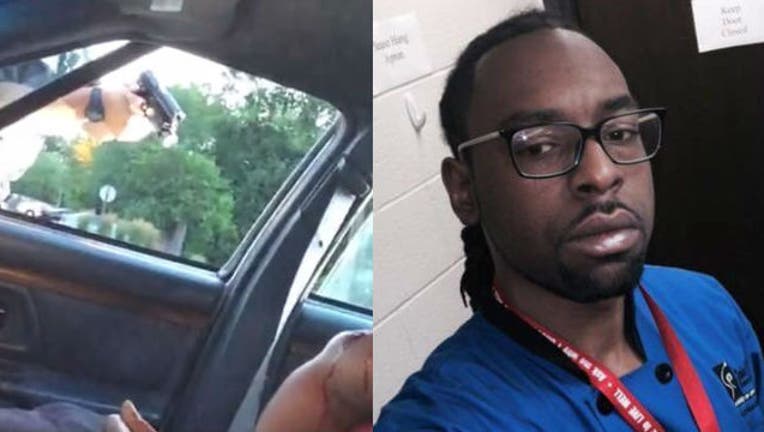 MINNEAPOLIS (AP) - A Minnesota police officer goes on trial this week in the killing of a black motorist that drew additional attention when video of the shooting's aftermath was streamed live on Facebook.
Key figures in the manslaughter trial of St. Anthony police officer Jeronimo Yanez in last July's death of Philando Castile:
THE DRIVER
Castile, 32, was a longtime elementary school cafeteria worker who family members described as loving and laid-back. Quick with a high-five for students and always eager to sneak kids extra graham crackers and other treats, Castile was known simply as "Mr. Phil."
Police had pulled Castile over many times before. Although he had no serious criminal record, The Associated Press examined records that show he was pulled over around 50 times in recent years in the Minneapolis-St. Paul area, typically for minor offenses such as driving on a suspended license or without proof of insurance, speeding, driving without a muffler or not wearing a seat belt.
___
THE OFFICER
Yanez, who is Latino, had worked for the St. Anthony Police Department for nearly five years when he pulled Castile's car over.
He graduated from Minnesota State University-Mankato in 2010 with a degree in law enforcement, and was one of the top in his class. He is married and has one child.
Yanez's chief, Jon Mangseth, defended him in an interview in August as energetic and intelligent, with "a real sound ability when it comes to communicating and relating to people."
At the time, Mangseth was preparing to return Yanez to desk duty. The city quickly reversed course and put Yanez back on leave after community backlash.
___
THE GIRLFRIEND
Millions of people saw Diamond Reynolds in her live Facebook stream as Castile lay bleeding next to her in the driver's seat. She was praised for her split-second decision to stream the shooting's aftermath and her measured responses to Yanez, who had just fired shots into the car and still had his gun out.
Reynolds told television reporters she recorded the situation because she felt "at the end of the day it was going to be the law enforcement's word over mine."
Reynolds' daughter - 4 years old at the time - was also in the car.
___
THE PARTNER
Officer Joseph Kauser was standing on the other side of the car at the time of the shooting.
Kauser went to Minnesota State University-Mankato with Yanez, and was also chosen as among the best in their class. A 2010 newsletter shows a photo of the pair together, smiling in their graduation robes.
Kauser has not spoken publicly about the shooting, but is listed as a possible trial witness. The complaint says Kauser told investigators he did not see Yanez's gun until he began shooting.
___
THE MOTHER
Castile's mother, Valerie Castile, emerged as a calm voice for change after her son's death. She urged protesters to remain peaceful while also calling on lawmakers to consider improvements in police training, hiring and other issues she felt contributed to her son's death.
"He is the driving force in me to make sure this doesn't happen to another mother," she has said.
She has hired attorneys and plans a lawsuit.
___
THE PROSECUTORS
Ramsey County Attorney John Choi made the decision to charge Yanez. He resisted pressure to step down from the case due to his relationships with police and instead brought a special prosecutor on board to offer an outside perspective. Choi said he wanted to make the call on charges rather than sending the case to a grand jury in the interest of transparency.
When he announced the charges in November, Choi said: "No reasonable officer, knowing, seeing and hearing what officer Yanez did at the time, would've used deadly force under these circumstances."
Choi is not prosecuting the case himself. That will be left to a team of seasoned attorneys from his office and a federal prosecutor who was brought on to assist - all of whom have won high-profile trials.
___
THE DEFENSE
Yanez hired three prominent Minnesota attorneys - Paul Engh, Earl Gray and Thomas Kelly - who have all handled big cases before.
Kelly represented ex-U.S. Sen Larry Craig, the Idaho Republican arrested after allegedly soliciting sex in a bathroom at the Minneapolis-St. Paul airport. Engh has represented terror suspects in federal court, as well as Tom Petters, a Minnesota businessman convicted of orchestrating a $3.7 billion Ponzi scheme. Gray represented former Minnesota Vikings quarterback Daunte Culpepper against allegations of sexually inappropriate behavior on a boat.
___
THE JUDGE
Judge William H. Leary III is head of Ramsey County District Court's civil division. Leary, who is white, was assigned to the case earlier this year after Yanez's attorneys asked to have Judge Edward Wilson, who is black, removed.
Minnesota law allows defense attorneys to remove one judge without citing a reason, and Yanez's attorneys declined to say if race was a factor.
Leary worked in private practice for more than two decades before he was appointed to the bench by then-Gov. Jesse Ventura in 2002.
In November, Leary issued an order allowing transgender people on medical assistance the right to gender transition surgeries, lifting a decadelong ban by the state. Last fall, he sentenced a man to life in prison with no parole for the killing of a law clerk.
Leary rejected a handful of pretrial requests from the defense, including a change of venue. He also denied their request to let jurors see Castile's car in person and have Yanez re-enact the shooting.
___
THE POLICE DEPARTMENT
The St. Anthony Police Department patrols the Twin Cities suburbs of St. Anthony, Falcon Heights and Lauderdale.
Scrutiny of the 23-member department after the shooting found that its officers had disproportionately arrested African-Americans. Members of Minnesota's black community said the statistics were proof of racial profiling.
Since Castile's death, the department has been working to address concerns about training and diversity, and requested a review of its operations by the Justice Department.
___
Follow Amy Forliti on Twitter: http://www.twitter.com/amyforliti