City of Kyles: Kyle attempts to break world record
KYLE, Texas - The city of Kyle is trying to break a world record for the largest gathering of people with the same name: Kyle!
As of Monday afternoon, the city announced they had 1,490 in attendance. 
"It's on my birthday, it felt meant to be," Kyle McGuckin said.
Kyles took over the city of Kyle from across the country, trying to break the record currently held by Bosnia and Herzegovina for the largest gathering of Ivans, 2,325 of them, in 2017.
Kyle Rotenberg traveled to Kyle from Portland just for the event.
"Why wouldn't you? Wouldn't you if you were a Kyle, come to try and break a record?" he said. "I'm 70 years old, at 70 you don't have too much chances to break a record, I got a chance to be part of a record."
"Narcissistic," Kyle Evans said with a laugh. "It's so cool, you say Kyle and everyone's like [turning their heads]."
Kyle Evans and Kyle Buckley went to the same high school in Denver.
"They would call me girl Kyle," Buckley said.
"Girl Kyle, yeah that's right, girl Kyle, not that Kyle!" Evans said.
"It's interesting. I'm definitely one of the minorities here even amongst people with my name, but apparently there's a girl crew of Kyles around here that I need to find," Buckley said.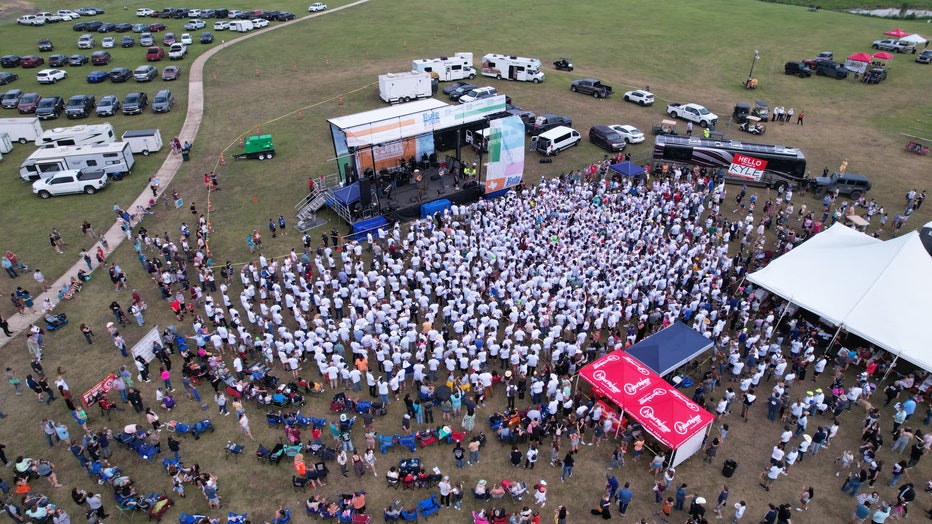 RELATED: Kyle, Texas looks to break record for most people with same name in same place
Every Kyle has a different backstory for why they're named Kyle.
"My parents knew some girl in college whose name was Kyle, and they thought that was a super cool name, so they named me that," Buckley said.
"SMU, their greatest All American, their first greatest All American, was a guy named Kyle Rote who played for the New York Giants," Kyle Rotenburg said. "My last name being Rotenberg, my dad was watching him play football, oh there's the name, Kyle Rote, Rotenberg, Rote. I met him three times."
COVERAGE FROM KYLE
While this is the fourth year the Kyle gathering has happened, it's the city's biggest attempt yet.
"It is actually a very long verification process. We will have to put together our entire application, send it off for evidence review to the Guinness World Record," Rachel Sonnier, communications director for the City of Kyle, said.
She says that process could take 12 weeks, so the announcement of whether the record was broken or not might not come for a few months.
If you're wondering why the city of Kyle is called Kyle, it's named for the founder, Fergus Kyle and was established in 1880.