La Grange: Help needed to sustain Harvey recovery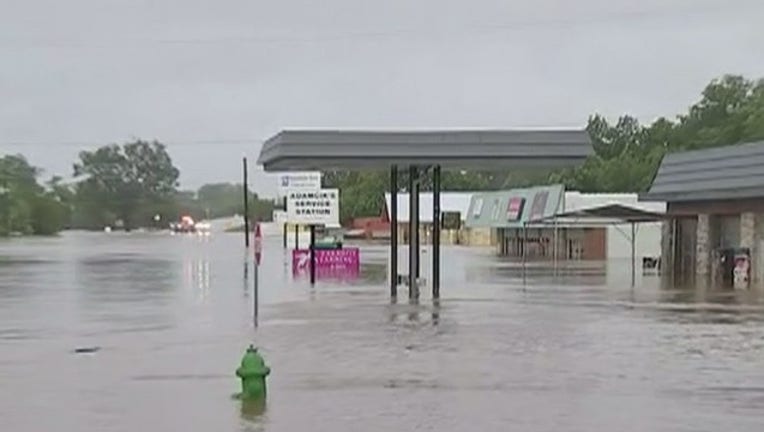 article
The recovery effort continues in Fayette County where more than 500 homes were damaged or destroyed by floodwaters. Most of the homes lost are in the town of La Grange.
Thursday, as residence started cleaning up, volunteers were gathering items to replace what was lost.
The Knights of Columbus Community Center in La Grange served as a rallying point Thursday for those returning  to their homes. Cars and trucks filled the battered parking lot while a large group gathered and huddled together under an awning.
Authorities were allowing people to rotate in and out of the Brown Street trailer park.
It was one of the hardest hit neighborhoods. Carlos Gallegos was among those who waited in line to recover what what the flood did not take. "Im feeling pretty sad but I feel like my house is well I've got insurance and I called already and they say that they will pay me for the house," said Gallegos.
The clean up was also underway at the Cottonwood Inn on the west side of the Colorado River. every room on the lower level was flooded. Owner Asha Jamal spent the morning sorting through piles of ruined bed linen.

"It's breaking my heart right now last night I saw everything else it's very hard tough how do you recover from something like this faith in God believe in God all the time he's always there for me," Jamal.
Demolition work at the inn is being done by a team of volunteers.
Among those who came to help was Michael Andre; he drove in from Bastrop expecting to tackle a big job. "It is, we'll get it knocked out with enough volunteers and  we will get it done," said Andre.
Video taken Monday shows the flood waters pouring across Business 71 and through a store front.
Thursday, a muddy mess was being scooped out of the store. Owners Alvin and Allan Minarcik say they do not feel that the plight of La Grange has been overshadowed or forgotten because of the crisis in Houston.
"We are not quite the head line news, you have so many people ( in Houston)," said Allan Minarcik.
He didn't have flood insurance on his building and expects financial assistance will be available.
If not Minarcik had this to say, "guess were on our own."
An example of that resolve is a building about a block away from Minarcik's store. The second chance emporium thrift store, before the flood, was an symbolic of how this community helped the needy. Now after the flood the building is  symbolic of how this community continues to do that mission.
Donations of clothing and cleaning supplies have filled a warehouse on the other side of town on Reynolds St. A small army of volunteers spent the day sorting, distributing and directing people to shelter.
"The La Grange community has been overwhelmingly unified during this time so it's been great as a pastor and it's a new person for the past year look at La Grange and see this community just love on each other and say whatever you need we are going to do what we can to make sure you get started again in this process," said Pastor Chris Little with Second Baptist Church.
The healing process is expected take months if not longer to work through.
It's why officials are encouraging those who want to help to make financial donations and to continue to volunteering in La Grange through the fall season. To help with relief and recovery in La Grange, click here.