Las Vegas collector stumbles on historic copy of Declaration of Independence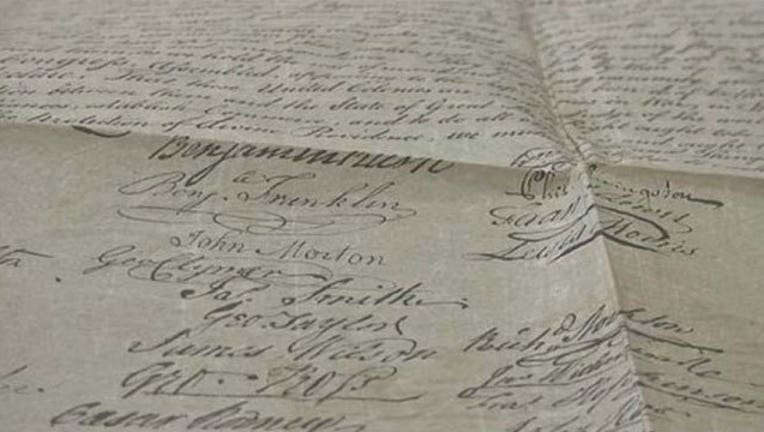 article
A Las Vegas collector is marking the Fourth of July with a rare find he stumbled upon--a copy of the Declaration of Independence produced in the 1830s.
An engraver made 201 facsimiles of the original Declaration of Independence in 1823 using a copper plate. Kevin Kostiner recently discovered that he has a reproduction of one of those facsimiles.
"It's wonderful to see it," Mark Hall-Patton, a Las Vegas museums administrator told Fox5 Las Vegas. "You don't see these (copies) of the original 201 that were printed."
What Kostiner purchased at an auction for $75 may be worth $35,000, the station reported.
Kostiner was the winning bidder on four boxes of papers being tossed out by the California Academy of Sciences in San Francisco, the Las Vegas Review-Journal reported Sunday.
He got the surprise of his life when went through one box and at the bottom found an old and stained, folded-up copy of the Declaration of Independence. He did some online sleuthing and determined he had something valuable in his possession.
"I love collecting and love treasure hunting," he told the paper, adding that he has no plans to profit from the discovery.
He also told the paper that for $75 he made "a great investment."
Read more on FOX NEWS.