Two teens charged in shooting deaths of father and son in Llano County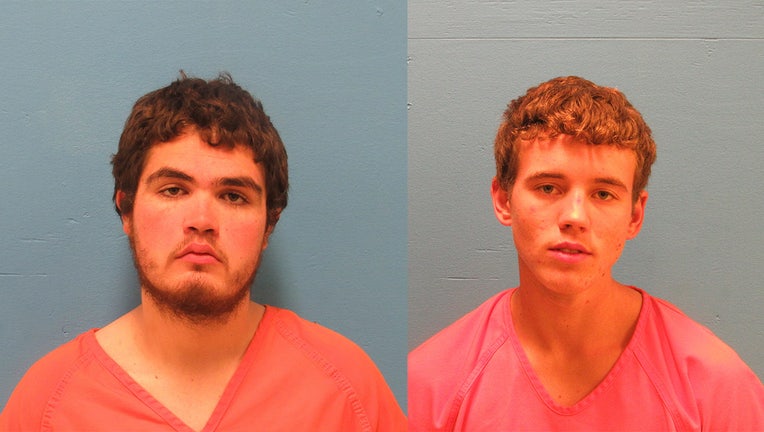 article
TOW, Texas - Two teens have been arrested in the shooting deaths of a father and son in Llano County.
Early this morning, DPS troopers, Texas Rangers, and Guadalupe County Sheriff Office deputies arrested 19-year-old Kyler Nathaniel Allen and 19-year-old Jordan Eric Ostrander for the murders of Preston Wessling and Evan Wessling. 
They're charged with Capital Murder.
On Jan. 14 around 4:49 a.m., the Llano County Sheriff's Office (LCSO) received a 911 call about multiple gunshot victims at a home on Airport Road in Tow, Texas. Responding deputies arrived and found two people in the home's driveway, both with gunshot wounds. 
The two, identified as 38-year-old Preston Wessling and 14-year-old Evan Wessling, were pronounced dead at the scene. LCSO later confirmed to FOX 7 Austin that the pair were father and son.
Preston Wessling and Evan Wessling (The Wessling family)
LCSO says that it had received a 911 call about several shots fired in the same general area just after 1 a.m. that same morning. At this time, officials say it's unclear if the two incidents are related.
The Llano County Sheriff's Office is asking anyone who may have seen or heard anything to please contact the Llano County Sheriff's Office, at 325-247-5767. Individuals who wish to remain anonymous, can call Hill Country Crime Stoppers, at 1-866-756-TIPS (8477).
RELATED: Family struggling to process why father and son were murdered in Llano County
This case is being investigated by the Llano County Sheriff's Office, Texas Rangers, and the District Attorneys Office.
A GoFundMe has been set up by the family to cover Preston and Evan's funeral costs.
Burnet CISD, where Evan attended school as a freshman at Burnet High School, released a statement, saying that additional counselors will be available for BHS students and staff on Monday.
Dear Parents,
It is with deep sadness that we inform you that the District became aware that Evan Wessling, a Burnet High School freshman, passed away over the weekend. Evan and his family have been members of the BCISD school community for several years, and many students and staff members may deal with feelings of shock and loss. We encourage you to be sensitive to the many ways that grief can be experienced by different individuals, and to keep lines of communication open at home with your family members so that they feel free to process thoughts and feelings during this time. Additional counselors will be available for students and staff at Burnet High School on Monday, and counseling is available at all BCISD campuses. As a District, we are saddened by this loss, and our hearts and prayers go out to Evan's family and friends. Out of respect for the family and their privacy, no further statements will be provided by the District except to share publicly available information regarding services for Evan.
Sincerely,
Burnet CISD