Longhorns head off to compete in Big 12 Championship game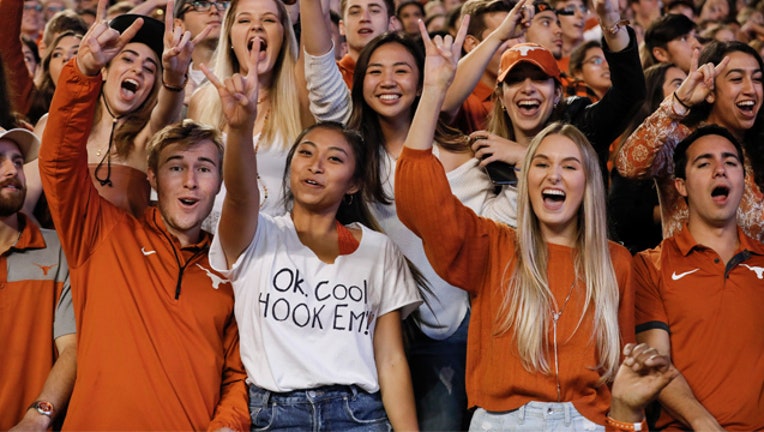 article
AUSTIN, Texas - They've battled before for the golden hat, in the Red River Rivalry, but, this weekend the Texas Longhorns and Oklahoma Sooners will be fighting for the Big 12 Championship bragging rights. 
Friday, the University of Texas football team headed to Arlington to prepare for Saturday's game. But, not before Longhorns fans were able to give a Texas sized send-off to players as they departed for the AT&T Stadium. 
The game marks the first time the Texas Longhorns and Sooners have not played in the Cotton Bowl since 1923. The Big 12 Championship game will be decided at the home of the Dallas Cowboys.
To help prepare for the game against the Sooners, Austin fans made sure to send them off with a celebration. "Hook em' Horns! We are 100% behind the team," said Phaedra Abbott.
Abbott came out in support of her nephew who's playing in Saturday's game. The Longhorn band, Texas cheer and Smokey the Cannon were all present as the players boarded the bus. 
For some Longhorns fans, the chance to play the Sooners twice in one season is a dream come true. 
"Looks to be a few hundred people out here, we are really excited it's been a while since we've been in the Big 12 Championship so we are sending the team off. It's been a few dry years here in Texas so we wanted to let them know we are all behind them here in Austin," said Abbott. 
According to the Big 12 office, a little more than three days after the matchup was finalized, this year's Big 12 Championship has already sold out, but there is still limited standing room only available.
Saturday will be the Longhorns' sixth appearance in a Big 12 Championship game.
It's set to kick off at 11 a.m.