Man arrested and charged in mother's death in downtown Austin hotel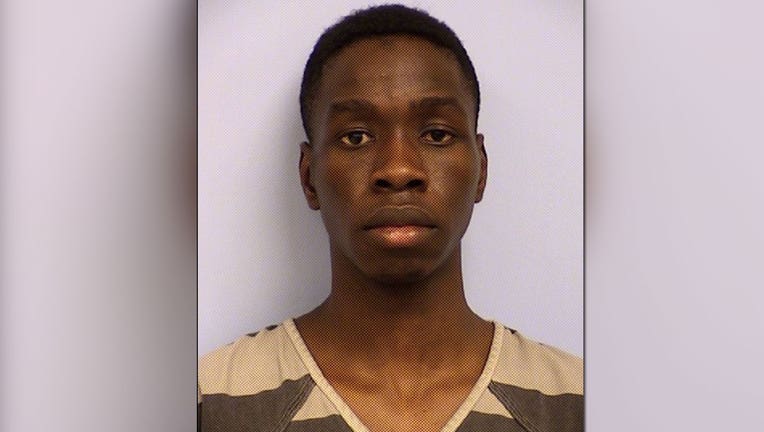 article
AUSTIN, Texas - Austin police say a 20-year-old has been arrested and charged in the killing of his mother in a downtown hotel.
Eyitoluwa Olayeye has been charged with aggravated assault causing serious bodily injury, a second-degree felony.
The investigation began after Austin 9-1-1 received a call just before 4:45 a.m. on November 6 about a disturbance in a room on the 5th floor at the Holiday Inn Express & Suites in the 800 block of Neches Street. ATCEMS responded to a call of someone screaming in the room and later updates said it sounded like a fight in the room and a woman screaming.
Officers arrived at the hotel and had to force entry into the room, where they found 48-year-old Kehinde Olayeye lying face down and unresponsive on the floor and a man, later identified as her son Eyitoluwa, lying on her back with his arm wrapped around her body. According to an arrest affidavit, a bloody pillow was also found in the room. 
Austin-Travis County EMS examined the victim and she was pronounced dead at the scene at 6:12 a.m.
Eyitoluwa's aunt told officers she and Kehinde had flown into Austin from Georgia the night before to visit Eyitoluwa. She said she and Kehinde had received a call from Eyitoluwa the afternoon before and that Eyitoluwa was rambling and saying "I pray that God brings us together," says the arrest affidavit. 
Eyitoluwa's friends took the phone and told them he had been saying he "had found his purpose in life" and that he apparently "had touched someone inappropriately at the library on campus and had been asked to leave." His friends told them Eyitoluwa was being transported to the hospital by EMS for an evaluation, says the affidavit.
The aunt said she and Kehinde decided to get on a flight at the time and come to Austin, and Kehinde received a call from Dell Seton Medical Center asking if Eyitoluwa's family had a history of mental illness. Eyitoluwa's friends later called to inform them Eyitoluwa had been released from the hospital and that they would be taking him to their apartment. They also told Kehinde that Eyitoluwa was saying he wanted to leave school, according to the affidavit.
The aunt and mother landed in Austin around 11 p.m. and rented a car to pick up Eyitoluwa, the aunt saying he seemed happy according to the affidavit. The three decided to get a hotel downtown and after stopping at Eyitoluwa's apartment for his laptop, drove to the Holiday Inn Express, arriving around 2 a.m. Eyitoluwa got two rooms, one for him and his mother and one for his aunt. 
The aunt said Eyitoluwa told them the hospital was trying to hold him because of a mental issue, but he just told them what they wanted to hear so they would let him go. She said she noticed he was really hyped up and told him to get some sleep. She told officers she and Kehinde wanted to take Eyitoluwa back with them to Georgia.
Officers spoke with the security guard who called 911. He said he was making his rounds around 4:30 a.m. when he heard loud voices like arguing coming from the room. He told officers he knocked on the door and asked the guests to keep it down, but the noises got louder. 
A witness told officers that around 4:15 a.m. he heard a woman running down the hall banging on doors and screaming, possibly saying "Let me in" and what sounded like someone being dragging past his room.
Eyitoluwa was transported to the Homicide office where officers said they observed wounds on his left elbow and inside of his left bicep, a bruise on the inside of his right bicep and swelling to the right side of his face by his eye.
Eyitoluwa told officers he had attended his 8 a.m. class at the University of Texas at Austin, which let out around 9 a.m. He then went to the Rec Center on campus and played basketball, then walked over to the UT Tower. He said he was there praying, then the next thing he knew he was in an ambulance and didn't know why or how he was in the ambulance, according to the affidavit.
Eyitoluwa told officers he was taken to an unknown hospital where they asked him if he had ever been diagnosed as bipolar or manic. He said he was released and then went to his friends' apartment and was talking about God and his purpose when his mother and aunt arrived and took him to an unknown hotel. The arrest affidavit says Eyitoluwa didn't know the name of the hotel or where it was located.
He said he and his mother were staying in one room and his aunt was in another room, but initially, they were all in the room together. His aunt left and Eyitoluwa told officers no one else ever came in the room. He said in the affidavit he went to the bathroom then laid down in bed on his back. He told officers he remembers his mother standing over him and praying, then the next thing he knew he was in the back of a police car.
In the affidavit, when officers told him his mother had passed, he said that he must have killed her because no one else was in the room but he could not remember anything and said he didn't have a reason to kill his mother.
The Travis County Medical Examiner's office conducted an exam on Kehinde, finding she had deep skull hemorrhaging, hemorrhaging around her neck, cuts to her inner mouth and petechial hemorrhaging. Soft signs of strangulation were also found.
Detectives are asking anyone with video or information about this incident to call Crime Stoppers at 512-472-TIPS or use the new Crime Stoppers App or email APD Homicide at homicide.apd@austintexas.gov. You may remain anonymous.
You can also submit tips by downloading APD's mobile app, Austin PD, free on iPhone and Android.