LA bishop shot to death in Hacienda Heights was murdered: LASD
LOS ANGELES COUNTY, Calif. - Officials said a person of interest was detained Monday following the deadly shooting of an Auxiliary Bishop with the Archdiocese of Los Angeles in Hacienda Heights – leaving parishioners horrified. 
THE LATEST: Person of interest detained in connection with LA bishop's murder
Bishop David O'Connell was killed in the shooting that happened just before 1 p.m. at a home in the 1500 block of Janlu Avenue. 
According to investigators with the Los Angeles County Sheriff's Department, O'Connell was shot in the upper torso and pronounced dead at the scene. Officials said they are investigating O'Connell's death as a murder.
SUGGESTED: Man robbed at Van Nuys home while trying to sell high-end watch to online buyer
"It is a shock and I have no words to express my sadness," Archbishop José Gomez said in a statement.
O'Connell, 69, was a native of Ireland and had been a priest and later a bishop in Los Angeles for 45 years, Gomez said. Gomez called him "a peacemaker with a heart for the poor and the immigrant, and a passion for building a community where the sanctity and dignity of every human life was honored and protected."
"He was also a good friend, and I will miss him greatly. I know we all will. Please join me in praying for Bishop Dave and for his family in Ireland. May Our Lady of Guadalupe wrap him in the mantle of her love, and may the angels lead him into paradise, and may he rest in peace."
Bishop David O'Connell, of the Archdiocese of Los Angeles' San Gabriel Pastoral Region (Photo by Sarah Reingewirtz/MediaNews Group/Pasadena Star-News via Getty Images)
At the time of his death, O'Connell was vicar for the Archdiocese of Los Angeles' San Gabriel Pastoral Region, a post he had held since 2015 when Pope Francis appointed him as an auxiliary bishop for the Los Angeles Archdiocese.
O'Connell had previously served as associate pastor at St. Raymond Catholic Church in Downey, St. Maria Goretti Catholic Church in Long Beach, and St. Hilary Church of Perpetual Adoration in Pico Rivera, and then as pastor of St. Frances X. Cabrini, Ascension, St. Eugene and St. Michael's parishes, all in Los Angeles.
O'Connell was born in County Cork, Ireland. He studied for the priesthood at All Hallows College in Dublin and was ordained to serve in the Archdiocese of Los Angeles in 1979, according to Doris Benavides, associate director of media relations for the Archdiocese of Los Angeles.
As chairman of the interdiocesan Southern California Immigration Task Force, O'Connell helped coordinate the church's response to immigrant children and families from Central America in recent years. He also sponsored the enrollment of several young immigrants in Catholic schools, several of whom have advanced to college.
He served as a member of the Priest Pension Board and on the Together in Mission Board as well as the Archdiocesan Finance Council, the archdiocese said. He was a longtime member of the Council of Priests and a Knight of Peter Claver.
At the national level, he was chairman of the Subcommittee on the Catholic Campaign for Human Development of the U.S. Conference of Catholic Bishops.
In September, O'Connell was honored with the Evangelii Gaudium Award from St. John's Seminary in Camarillo, "for his selfless service to the community and the Church in L.A," Benavides said.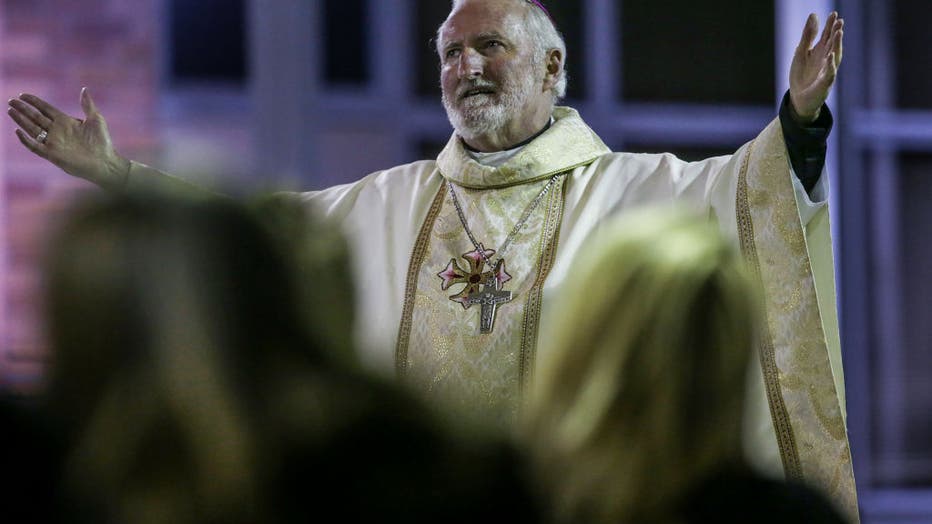 Bishop David OConnell of St. Cornelius Catholic Church, hosts a community memorial service in 2020 (Robert Gauthier/ Los Angeles Times via Getty Images)
At the national level, he was chairman of the Subcommittee on the Catholic Campaign for Human Development of the U.S. Conference of Catholic Bishops.
There was also an outpouring of shock, sadness and remembrance on Twitter and other social media from people who knew and worked with O'Connell.
"This is L.A. Aux. Bishop David O'Connell, with one of my young clients," immigration attorney Linda Dakin-Grimm wrote on Twitter alongside a photo. "Bishop Dave ... was there for every child and family I have represented. Always. Helping, supporting and generally being the face of Jesus for me and many many others."
Norma Seni Pimentel, executive director for Catholic Charities of the Rio Grande Valley, also shared a photo of herself and O'Connell.
"Bishop David O'Connell, truly a man of God! Your sudden departure has left us extremely sad. May you rest in peace Bishop O'Connell," Seni Pimentel tweeted.
Kathryn Jean Lopez, a columnist and an editor-at-large of National Review Online, tweeted, "Goodness was I blessed to get to know him. God rest his beautiful soul."
Bishop Robert Reed of Boston also shared a photo on Twitter of himself with O'Connell.
"Through the mercy of God, may the soul of this good priest and bishop rest in peace.  Amen," he wrote.
Irish author and storyteller Julianne Stanz tweeted, "My heart is heavy with sorrow at the passing of my dear friend Bishop David O'Connell. A compassionate and kind man who loved Jesus. Ar dheis Dé go raibh a h'anam dílis which means `May his holy soul be on the right side of God. Rest in peace Bishop Dave."
Deputies are still investigating the shooting. Anyone with information was asked to call LASD detectives at 323-890-5500. Those wishing to remain anonymous can also submit through Crime Stoppers by calling 800-222-8477, or going to lacrimestoppers.org.
City News Service contributed to this report.