Manhunt on for 1 of 2 Wyoming men accused of tying up mom, 4 teenage daughters in basement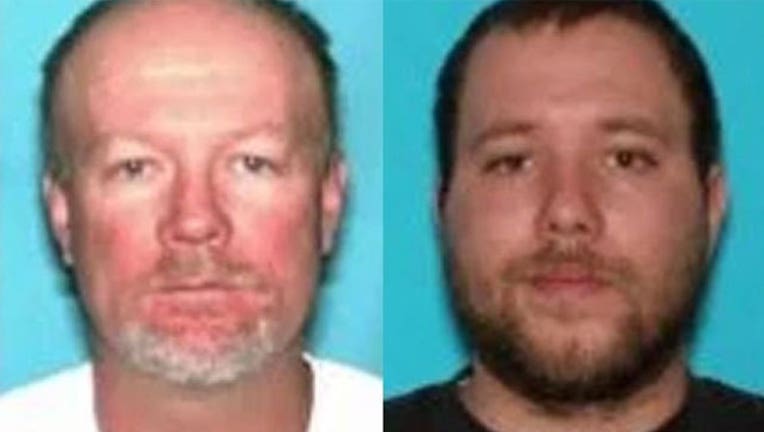 article
One of two men accused of luring a woman and her four teenage daughters to a Utah house and tying them up in the basement surrendered to authorities in western Wyoming, while the manhunt for his son intensified.
Flint Wayne Harrison, 51, was arrested early Saturday at the Sublette County Sheriff's Office and immediately began helping authorities seek his son Dereck James "DJ" Harrison, 22, who investigators believe is armed and dangerous in the forested back country near Pinedale, Wyoming.
Wyoming Highway Patrol, Green River Police Department, Rock Springs Police Department and the Utah Department of Public Safety have joined together to search for DJ Harrison, Fox 13 Salt Lake City reported Saturday.
As of Saturday morning, authorities evacuated the Half Moon Lake campground and set up a roadblock on one road, according to the station. The search also included a police helicopter with infrared capabilities.
Though residents have not been directly threatened, the Sublette Sheriff's Office urged Pinedale residents to consider sheltering in place until the DJ Harrison was apprehended, the station reported.
The woman and her daughters are recovering.
Police had been seeking the Harrisons since the Tuesday attack in Centerville, Utah. The two had been using methamphetamine heavily over several days and falsely believed the woman had reported them to authorities, police said.
The younger Harrison was a close friend of the woman's family. He often visited the home for dinner or picked the girls up from school. The teens, aged 13 to 18, had known him for several years.
The men are accused of tying the mother and daughters up with zip ties. When the elder Harrison hit the woman with a baseball bat, the teens began to break their ties and try to escape, according to charging documents.  In the struggle that followed, one girl slapped away a shotgun pointed at her throat and another grabbed the bat and hit the son, police said.
The victims managed to escape.
The Harrisons fled and were eventually picked up by someone who took them to Salt Lake City, where they spent Tuesday night in a hotel.
The elder Harrison is a registered sex offender in Pinedale, Wyoming, where he surrendered for reasons still unknown to police. Investigators think the father and son had been in Wyoming since Thursday.
Read more on FOX NEWS.