Manufacturer says corrosion caused ride to break apart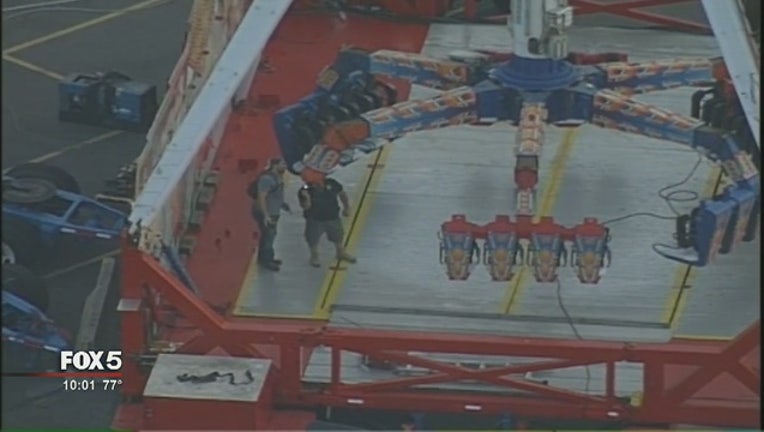 article
COLUMBUS, Ohio (AP) - Excessive corrosion on a support beam caused a "catastrophic failure" of a thrill ride at the Ohio State Fair that killed an 18-year-old man and injured seven others, the ride's Dutch manufacturer said in a statement posted Sunday on Facebook.
The statement said KMG officials traveled to the accident scene in Columbus to review video footage of the July 26 accident and conduct metallurgical tests of the beam.
"It was determined that excessive corrosion on the interior of the gondola support beam dangerously reduced the beam's wall thickness over the years," the statement said. "This finally led to a catastrophic failure of the ride during operation."
The company said the spinning and swinging ride called the Fire Ball was 18 years old.
Tyler Jarrell died of blunt force trauma injuries after being tossed 50 feet (15 meters) into the air when the ride broke apart. He was about to begin his senior year in high school and had enlisted in the U.S. Marine Corps the week before he was killed.
Four of the injured remained hospitalized last week, including an 18-year-old woman in a coma, and Jarrell's 18-year-old girlfriend. Jarrell's family has hired an attorney to possibly pursue a wrongful death lawsuit.
All other rides on the fair's midway were ordered shut down the night of the accident but eventually reopened. Sunday was the fair's last day.
Video taken by a bystander of the ride in action captured a crashing sound. A section holding four riders came apart, and screams could be heard as at least two people were ejected and plunged to the ground.
KMG ordered similar rides shut down worldwide after the accident. The statement said the company is working with industry safety experts to develop an inspection protocol.
Ohio Department of Agriculture records showed passing marks on inspections for Fire Ball on about three dozen items, including possible cracks, brakes, proper assembly and installation. Michael Vartorella, Ohio's chief inspector of amusement ride safety, said the Fire Ball was inspected three or four times before the fair opened.
Amusements of America, the company that provides rides to the state fair, said its staff also had inspected the ride.
___
This story has been corrected to show the last name of the man killed on the ride is Jarrell, not Durrell.