'March for Israel': Organizers declare it largest rally of Jewish people in modern history
WASHINGTON - Organizers of the "March for Israel" protest believe over 200,000 people from around the country came to the rally at the National Mall Tuesday, a month after the Hamas attack on Israel. 
The event, backed by the Jewish Federations of North America, began at 1 p.m.
Road closures were set up around the National Mall, and the National Guard was deployed to help manage traffic in the District. 
About 30 unarmed guardsmen were also enlisted to help support the Metropolitan Police Department from 5 a.m. to 7 p.m. But the event remained peaceful. 
Among those who spoke to the crowd were actresses Debra Messing and Montana Tucker, actor Brett Gelman, and political analyst Van Jones.
Senate Majority Leader Chuck Schumer and House Democratic leader Hakeem Jefferies were joined by House Speaker Mike Johnson, and Sen. Joni Ernst of Iowa in a "We stand with Israel" chant.
Those FOX 5 spoke to at the mall said that many have felt like they've quieted down and almost hid due to growing antisemitism following Israel's response to the attack by Hamas on Oct. 7.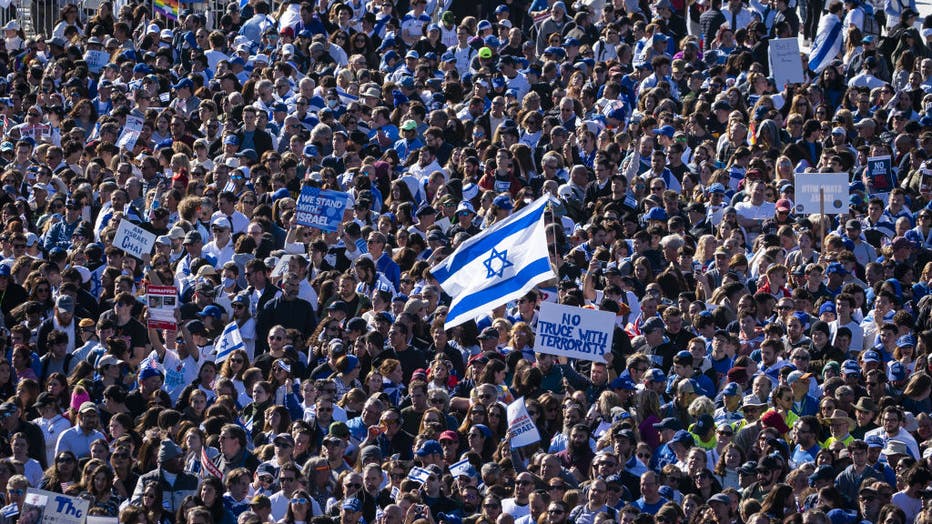 Demonstrators during a "March for Israel" rally on the National Mall in Washington, DC, US, on Tuesday, Nov. 14, 2023. President Biden said he's optimistic the remaining hostages taken by Hamas during its Oct. 7 assault on Israel will be released, te
The Jewish Federations of North America organized this massive "March for Israel" to call for the release of the Israeli hostages and condemn antisemitism. 
Several activists spoke out against Hamas and called on others who want peace to do the same. 
Sheila Katz with the D.C.-based National Council of Jewish Women said she just learned Tuesday morning that the Canadian Israeli Peace Activist Vivian Silver, someone their group often worked with, was found to have been killed the day of the attack.
"Today is a day to come together," Katz said. "We barely had time to mourn what happened on Oct. 7, before so many other things started taking place. And it's really a devasting day. Many of us lost people that we love … We're a small community, so it really hit us very hard."
A spokesperson for the Jewish Federations of North America told FOX 5 an estimated 290,000 people attended in person and 250,000 watched online via livestream.
"They estimate it's the largest pro-Israel gathering in American history," the spokesperson said. 
There was a smaller group of about 60 counter-protesters who were Hasidic Jewish members.
On stage, organizers also announced that hundreds of demonstrators arriving in D.C. for the "March for Israel" were left stranded at Dulles International Airport after charter bus drivers refused to take them to the National Mall for the rally.
The Jewish Federation of Washington confirmed that a speaker at the march told the crowd of nearly 290,000 people that some 900 people who flew in on chartered planes were left at the airport when buses that had been organized for them didn't make it.
The Metropolitan Police Department confirmed with FOX 5 that there were no arrests.
D.C. Fire and EMS reported that 74 people had to be transported to the medical aid station.
"Today, the District of Columbia remained safe and peaceful as our city hosted many visitors to our city exercising their First Amendment rights," MPD Chief Pamela Smith said in a statement. "All events remained peaceful and those in attendance were safe throughout the events. There were a few reported offenses involving criminal activities, such as vandalism and graffiti, on public space and in those cases our detectives are currently investigating and will hold those found responsible accountable. I extend my gratitude and sincere appreciation to the members of the Metropolitan Police Department, our local, state, and federal partners, and especially our community for helping us keep the District of Columbia safe for everyone."
Live updates from the 'March for Israel'
4:00 p.m. - Demonstration concluded
3:00 p.m. - Event's planned end
The rally was supposed to end at 3 p.m., but the flood of speakers continued. Actor and comedian Michael Rappaport was one of the next celebrity speakers. 
According to a copy of the permit for the demonstration obtained by FOX 5, the crowd dispersal is scheduled to begin at 4 p.m. and is expected to be done by 5 p.m. 
2:40 p.m. - 'We will win': Actress Debra Messing speaks out
2:00 p.m. - Congressional leaders take the stage
Senate Majority Leader Chuck Schumer, House Speaker Mike Johnson, House Minority Leader Hakeem Jefferies and Sen. Joni Ernst all spoke to the crowds calling for the release of the some 240 hostages taken by Hamas. 
Ernst has been an outspoken advocate for Israel, recently calling on the United Nations to designate Hamas as a terrorist organization.
"What Iran-backed Hamas perpetrated on Oct. 7 was pure evil," Ernst said.
1:00 p.m. - Rally begins
The rally began with a speech by Jewish actress and activist Tovah Feldshuh. 
"We stand here together as the yard side candles for over 1,400 slaughtered in the sovereign state of Israel, only because they were Jews. Sound familiar?" Feldshuh said. "We stand here firm against global antisemitism. We stand here firm in confrontation of antisemitism here in these United States. We stand here to say 'enough!'" 
The next speaker to come up was well-known lawyer and civil rights advocate Van Jones. He noted the increase in violence against Jewish communities in the U.S. which, according to the Anti-Defamation League, has risen by 316 percent since the start of the war. 
"Since Oct. 7, there has been, literally, an explosion of violence against Jewish people. Attacks against Jewish people. Horrific acts of violence against Jewish people," Jones said. "The Jewish community stood with the Civil Rights movement and I cannot be silent when Jews are under attack today. That's why I'm here today." 
Both the U.S. national anthem and the Israeli national anthem were sung before former Soviet dissident turned Israeli politician Natan Sharansky took the stage. 
11:30 a.m. - Pre-show begins
Several students spoke to the growing crowd as well as Rep. Ritchie Torres, D-N.Y., who spoke to the importance of the U.S.-Israeli relationship. 
"Israel has a right to defend itself and America has a duty to stand with Israel," Torres said. 
Celebrities Brett Gelman, the actor and comedian known for his role in the Netflix series Stranger Things, and singer Montana Tucker also spoke.
Several musical acts performed afterwards, including all-male Jewish acapella group the Maccabeats.
11:00 a.m. - Crowds begin to gather 
"I'm here to support Israel. My parents are Holocaust survivors and still living and I feel like they bookended their lives with two significant genocides," said Georgio Kulp from Potomac, MD. "I think that there's no more important thing in this moment in time than to get out here and support a humanitarian cause, that is the cause of Israel to stay intact. We wish the best for the Gazans but the world must hold Hamas to blame." 
FOX 5's Bob Barnard is on the National Mall speaking with demonstrators who are gathering for the March for Israel. 
10:00 a.m. – Gates open at the National Mall
Gates on the National Mall are open and demonstrators have started to arrive at the National Mall for the 'March on Israel' protest. There is a stage set up in front of the Capitol building, with a show expected to start around 11:30 a.m. 
6:30 a.m. – Organizers setting up on the National Mall
Monday night and Tuesday morning, organizers began preparing for thousands of demonstrators expected Tuesday at the National Mall.