National Pi Day 2018: Delicious deals and freebies to snag on 3.14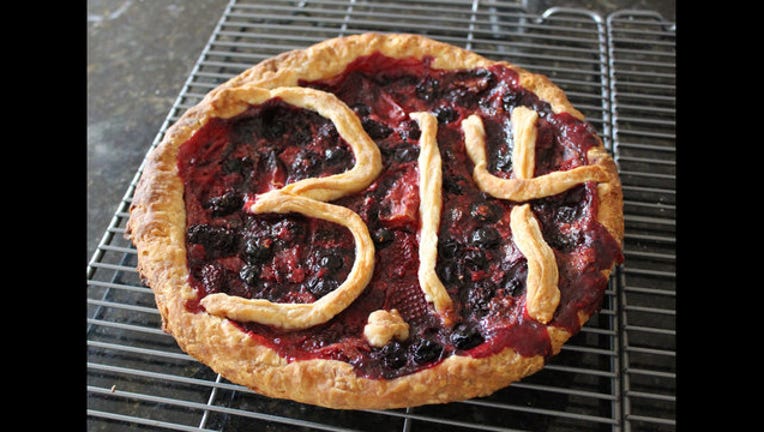 article
March 14, or 3.14, is a special day devoted to the unique numerical value of pi and for food lovers it's another excuse to eat "pie."
If you don't remember your geometry 3.14 in mathematical terms, also know as Pi, represents a constant— the ratio of the circumference of a circle to its diameter — which is approximately 3.14159. Did you know Pi was first calculated by Archimedes of Syracuse, one of the greatest mathematicians of the ancient world?  
And if you're not nerding out with other math aficionados around the world, chances are you're  drooling over pies you're going to honor the day with.
Whether you're celebrating the day with savory or sweet pies-- or even both-- we've got you covered with these delicious deals and freebies: 
&Pizza: Pizza is love and it only makes sense that the pizzeria will continue it's tradition of transforming the D.C. Chinatown store, Philadelphia's Walnut restaurant, Fed Hill in Baltimore and the NoMad store in New York City into pop-up wedding chapels! While applications to get married at select shops are now closed patrons are encouraged to crash the select locations because there will be a lot of cake and, of course, pizza! 
Boston Market: With this special Pi Day coupon score one FREE Rotisserie Chicken Pot Pie with the purchase of another pot pie and drink. 
Blaze Pizza: Score a $3.14 pizza when you order in-store on Pi Day. Limit one per person. 
Cicis: Buy 1 Adult Buffet at regular price, get 2nd Adult Buffet for $3.14. Just show this coupon before you ask for your check. 
Dangerously Delicious Pies: Pi happy hour is from 6 p.m. - 8 p.m., while supplies last, a special menu offers a selection of sweet slices for $3.14-- 1 slice per guest. 
Papa Murphy's: If you order online you can get a large, one-topping thin-crust pizza for $3.14 at participating locations.
Pieology: Sign up for the PieLife e-club to receive a coupon for a $3.14 pizza with a purchase of a "chef inspired" or custom 11-inch pizza.
Villa Italian Kitchen: Just a simple sign up and get a coupon to purchase a while Neapolitan cheese pizza for $3.14.
Urban Bricks: All pizzas will be $3.14 for dine-in orders only.
Whole Foods: If you're craving a little sugar, the large bakery pies from Whole Foods will be $3.14 off