Group with Nazi armbands had incident with Jewish person at Fort Worth restaurant
FORT WORTH, Texas - A group of Nazi sympathizers were recorded dining inside a Fort Worth restaurant this weekend.
For the people who witnessed it, they aren't just concerned about the messaging, but the timing, as people of Jewish faith are being targeted in Israel.
"We've seen these idiots do this in other places frankly. They've tried Dickies Arena, they hand out this propaganda on fliers," Fort Worth Mayor Mattie Parker said.
Strong words from Parker regarding a group of neo-Nazi clad individuals seen around the city, most recently this past weekend dining at a Torchy's Tacos restaurant and putting flyers on vehicles at the city-owned Botanic Garden.  
"I think the timing was specific in this situation as Israel was at war with Hamas. You are going to continue to see that. Fort Worth PD is on guard," Parker said.
The images from Sunday, just one day after the Hamas attack in Israel - show men wearing swastika armbands, also carrying bags with the symbol that is associated with white extremists and their antisemitic views.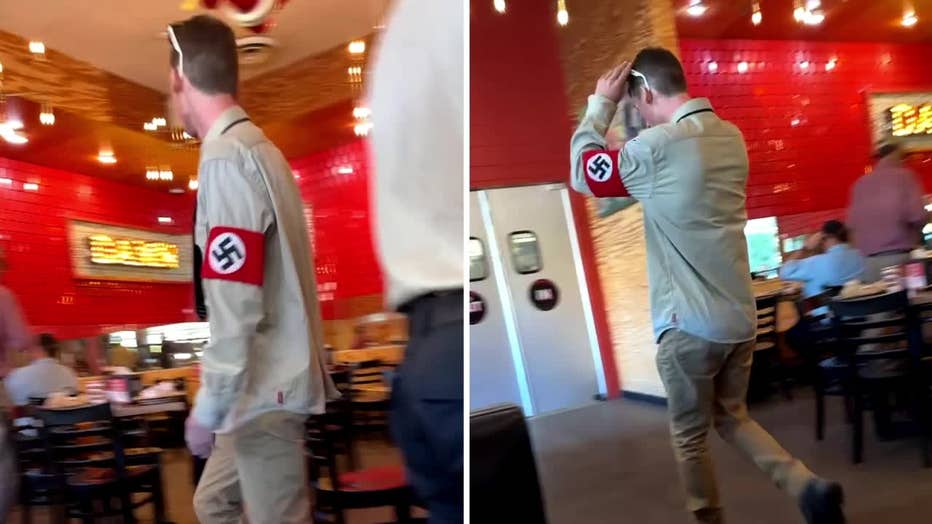 "We have to refuse to allow people like that to live peacefully in our communities because little things do add up and you see them fester and that type of antisemitism, unfortunately, is under the surface," Parker said.
Jessica Gregorio and her mother stopped by Torchy's Tacos that day.
"We were getting our drinks, that's when I noticed the guy with the armband. I looked at my mom like, that's got to be a costume. Like, there's no way they'd come out here like that," she recalled.
After a couple of minutes, she realized it wasn't a costume.
"I could just tell it was not a costume, this was actually a group meeting," she said. "For me, it was definitely triggering to see that these people were so comfortable to be out in public."
She recorded them with her cell phone and that prompted a heated exchange. 
"After I made comments about being a proud Jew, they said that's why you're getting blasted in Israel. For me, I'm not from Israel, so I'm not getting blasted, but I'm going to prevent something like that from happening to me here," Gregorio said.
Since the incident, the restaurant chain put out a statement, saying, in part: "Let us be clear, we do not stand for hate and do not support this group…when the group tried to come back, [after the exchange with Gregorio] they were not allowed."
Mayor Parker hopes other Fort Worth businesses are mindful.
"Not in my Fort Worth. Not in your city either, right," she said. "What's deeply concerning is you're also seeing people emboldened by that type of behavior. Neo-Nazi's here in Texas that are acting out towards our Jewish and I have no tolerance for it."