Nearly 60,000 Maxi-Cosi, Safety 1st car seats recalled due to failing base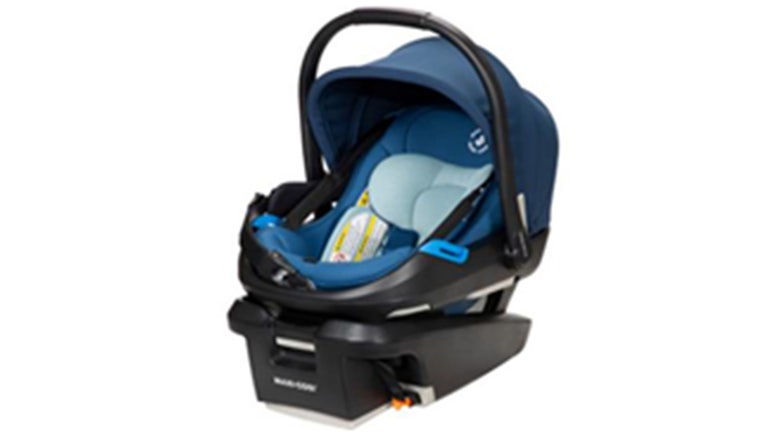 article
Nearly 60,000 car seats are subject to a recall because the lower seat base could potentially fail to work, according to the National Highway Traffic Safety Administration (NHTSA). 
Maxi-Cosi, whose parent company is Doral Juvenile, released a recall alert stating that all models of the Safety 1st OnBoard 35 SecureTech and Maxi-Cosi Coral XP, Mico XP, Mico XP Max, and Mico Luxe+ rear-facing infant car seats and Maxi-Cosi Infant Car Seat Base "fail to conform to the requirements of Federal Motor Vehicle Safety Standard (FMVSS) No. 213 'Child Restraint Systems.'" 
The car seats impacted by the recall include all colors/fashions of these model numbers: 
IC313 Maxi-Cosi Coral XP car seat
IC335 Maxi-Cosi infant car seat base
IC336 Maxi-Cosi Mico XP max infant car seat 
IC337 Maxi-Cosi Mico XP max infant car seat
IC338 Maxi-Cosi Mico XP max infant car seat
IC351 Safety 1st Onboard 35 Securetech car seat
IC370 Maxi-Cosi Mico Luxe+ Infant car seat
IC372 Safety 1st Securetech infant car seat base
Maxi-Cosi infant car seat base. (NHTSA)
Some of these car seats were also sold as part of a travel pack and will have the following model numbers: 
TR416 Maxi-Cosi Gia XP travel system w/Mico XP
TR427 Maxi-Cosi Zelia 2 Max travel system MXP
TR428 Maxi-Cosi Tayla travel system w/Mico XP
TR430 Maxi-Cosi Adorra travel system w/Mico XP
TR433 Maxi-Cosi Tayla XP travel sys. w/Coral XP 
TR434 Maxi-Cosi Mara XT travel sys. w/Coral XP
All of the models that are subject to the recall would have been manufactured during May 1, 2020 to Feb. 28, 2023. 
Both the model number and manufacture dates can be found on the label either on the carrier shell and/or base of the car seat. 
A replacement seat base will be sent to anyone who purchased the recalled models. 
In the meantime, owners are able to continue to use the car seats if they wish, but they must secure the base using a car seatbelt, which is outlined in the instruction booklet. 
The company plans to send letters to customers on April 7, but for anyone who may have questions before then, contact 1-877-416-8111. 
For more information about the recall, visit the Maxi-Cosi website or visit the NHTSA website. 
This story was reported from Los Angeles.