New risk-based guidelines released to help community stay safe during COVID-19 pandemic
AUSTIN, Texas - The Austin Public Health Department has released a color-coded chart to help residents of Austin-Travis County understand the stages of risk and provide recommendations on what people should do to stay safe during the COVID-19 pandemic.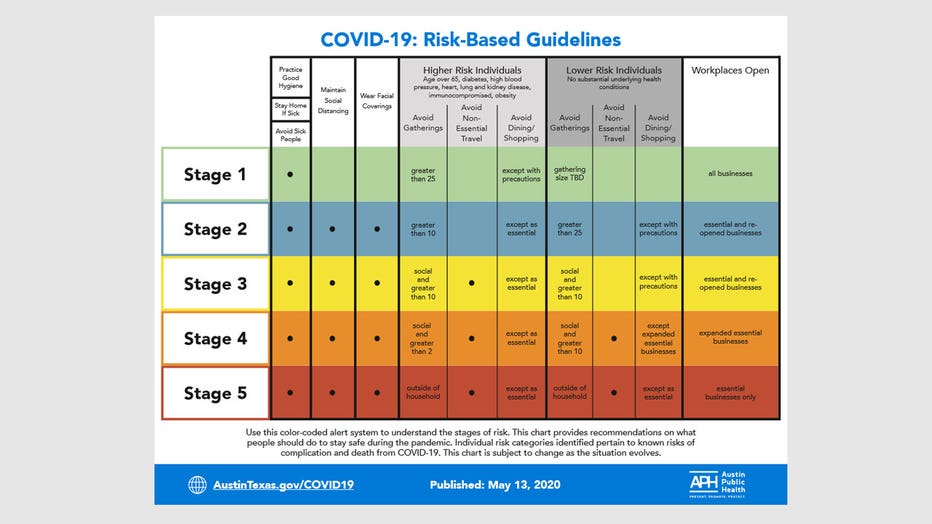 Officials plan to hold a 10 a.m. news conference to provide more information about the chart. The news conference will be streamed online and on the FOX 7 Facebook page.
SIGN UP FOR FOX 7 AUSTIN EMAIL ALERTS
The new risk-based guidelines set out five distinct stages of risk with the lowest threat being Stage 1 to the most serious being Stage 5. Each stage comes with recommended behaviors the public should be following. 
While the new guidelines are primarily designed as a resource to help individuals modify their behavior to protect themselves and others against transmission of COVID-19, they will also be used to inform APH recommendations around when restrictions on gatherings, business operations, and events should be loosened or tightened in the months ahead.
---------
Get breaking news alerts in the FOX 7 Austin News app. It is FREE!
---------
For lower-risk individuals, which officials define as those with no substantial underlying health conditions who have a lower risk of complication and death from COVID-19, officials recommend the following:
Stage 1: Practice good hygiene, stay home if sick, and avoid other people who are sick. APH is working on recommendations for maximum sizes of gatherings. Individuals are advised they are safe to return to work at all businesses.
Stage 2: Includes the recommendations for Stage 1 and adds: Maintain social distancing and wear fabric face coverings in public. Individuals are urged to avoid dining and shopping except with precautions, and to avoid gathering in groups of more than 25 people. They are advised they are safe to return to work at essential and reopened businesses.
Stage 3: Includes the recommendations for Stage 2 and also urges individuals to avoid non-essential travel, all social gatherings, and any gatherings of more than 10 people.
Stage 4: Includes the recommendations for Stage 3 and advises individuals they are safe to return to work, and dine and shop, only at "expanded essential businesses". This category will be defined shortly.
Stage 5: Includes the recommendations for Stage 4 and urges individuals to avoid all gatherings outside of the household and avoid dining and shopping except as essential. In this stage it is considered safe to return to work at essential businesses only.
Currently, Austin Public Health considers Austin-Travis County to be in Stage 3.
RELATED: TIMELINE: Texas' continued response to COVID-19 pandemic
For those at higher risk, described as those age 65 of age or over or people immunocompromised and have various health conditions like diabetes or high blood pressure, there are additional protective measures that should be taken.
Higher risk individuals are asked to avoid ding and shopping except with precautions, and avoid gatherings of more than 25 people, even at Stage 1.
As the stages progress from 1 through 4, higher-risk individuals are advised to limit the size of their gatherings, and their dining and shopping, to a greater extent than lower-risk individuals.
When it hits Stage 5 though, everyone is asked to limit activities and exposure to the same degree no matter if they're high or low risk.
Austin Public Health says it is currently exploring the most effective indicators to help determine the level of risk in the local community. Provisional triggers are being modeled based on the number of hospitalizations because of their general correlation with numbers of cases, use of ventilators, deaths, and availability of effective treatment and vaccination.
RELATED: Public urged to continue to follow guidelines as confirmed COVID-19 cases increase in Travis County
As person-to-person interactions increase following the Governor Abbott's decision to lift restrictions on a range of high-contact businesses, services, and other activities, local risk levels will continue to be reassessed over the coming weeks as new data becomes available.
By encouraging a cautious, phased approach to normalizing activity, underpinned by medical data, APH hopes to minimize the risk of a further spike in transmissions that would cause further economic disruption and hardship to the community.
CLICK HERE FOR THE LATEST INFO ON THE CORONAVIRUS OUTBREAK
__
FOX 7 Austin is working to keep you up to date with coronavirus, with both local and national developments. Every weekday we're live at 12 p.m. with a special show reporting the latest news, prevention tips and treatment information.
You can watch live in your FOX 7 Austin app or on the FOX 7 Austin Facebook page.
You can also get the latest COVID-19 news from around the country at coronavirusnow.com.