New tech helps Georgetown teen with cerebral palsy defy odds
AUSTIN, Texas - For most people with cerebral palsy, it's a disease that, year after year, robs them of their independence. But a local teen is defying those odds, by actually getting better over time, thanks in part to new electronic spinal stimulation technology.
The day Martin Smith, 14, of Georgetown, walked up the stairs without any help, was a day he never dreamed would come.
"I didn't expect for me to be able to do that. I thought I was pretty cool," said Martin.
"For him to just turn and walked up the stairs like everybody else, obviously it's huge," said Martin's mother Elishea Smith.
It's huge, especially considering where he was five years ago, when Elishea adopted Martin from Hungary.
"He had a hard time just turning over in bed, like moving himself," said Elishea.
He needed a lot of help moving around, and struggled with basic tasks like using the bathroom.
"It looked very painful the way he walked, the way he had to get around," said Elishea.
"What the research shows currently is once these kids reach a certain age, they're not they're not supposed to improve. And if anything, they're supposed to decline a little bit," said Dr. Darryn Atkinson, assistant professor at the University of St. Augustine for Health Sciences in Southwest Austin.
But Martin has defied those expectations, thanks in part to new spinal stimulation technology at the University of St. Augustine. He was the first to be enrolled in a pilot study this year using a device called ExaStim, developed by medical technology startup Aneuvo.
"It's electrical stimulation, stimulating the nerves that that reach the legs," said Atkinson.
"It's kind of tingly," said Martin.
The electricity helps improve communication between the brain and the muscles, and hopefully boost movement.
"I mean, you can see muscle growth," said Elishea.
"We just saw leaps and bounds in the improvement of his function," said Sheila Brose, lab instructor with the Pediatric Neuroplasticity Clinic.
The treatment is given in conjunction with five-day-a-week "locomotor training" at St. Augustine's free clinic, during which time Martin has also had a few surgeries on his foot.
"He's an incredible teenager," said Brose. "He brings it every single session. He has amazing strength and courage and bravery."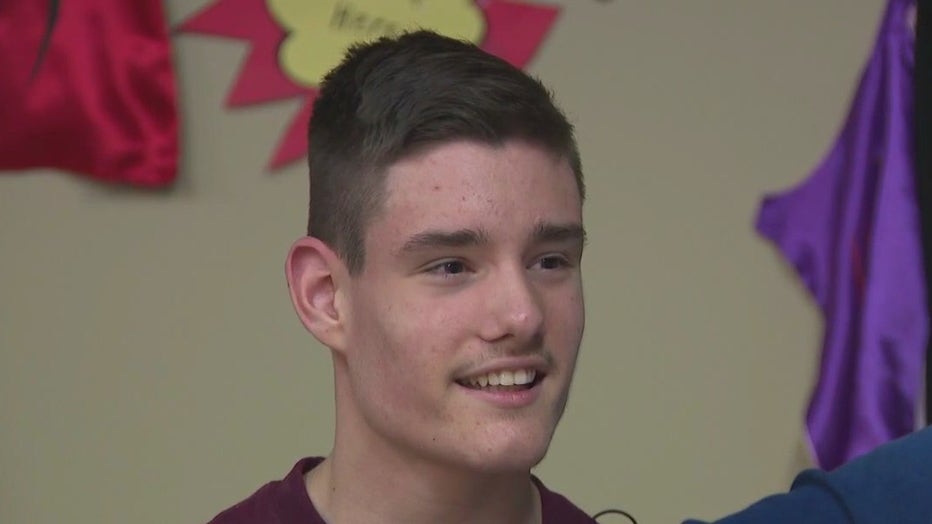 Fourteen-year-old Martin Smith, who has cerebral palsy, is defying the odds with the help of new technology.
"I feel much better," said Martin. "I'm able to walk longer distances and I don't use any equipment."
Martin's mom says the combination of those surgeries, the electronic stimulation, and the physical therapy he's receiving at St. Augustine has allowed him to live a life that few ever thought possible.
"As a mother, you know, you're happy to see your child with freedom," said Elishea.
These days, Martin is doing things like shooting hoops, dribbling a soccer ball, zooming around on a bike, even boxing with his brother.
"I don't struggle every day to do something," said Martin. "I feel more free to do what I can't do before."
While more research needs to be done, Atkinson is optimistic about this technology's promise for others.
"We're hoping that that's going to just change the whole trajectory of their lives. Yeah, that's the goal," said Atkinson.
Speaking of goals, Martin's got big plans for the future.
"I was thinking like a police officer. When I grow up, maybe. Or maybe like an engineer or something," said Elishea.
ExaStim is still in the research phase, but Atkinson says he hopes it will be much more widely available in the years to come.