AFD says fireworks are to blame for house fire in North Austin
AUSTIN, Texas - A home in Austin is a total loss after a firework burned the building. 
The Austin Fire Department said it was the homeowner's own firework that led to the flames, but the homeowner tells a different version of the story. 
"I thought 2021 couldn't possibly be as bad as 2020, but it was quick to prove me wrong," said Anthony Ponebshek who owns the home that burned early Friday morning. 
SIGN UP FOR FOX 7 AUSTIN EMAIL ALERTS
DOWNLOAD THE FOX 7 AUSTIN NEWS APP
An illegal firework celebration led to the 1:30 a.m. fire on Putnam Drive on the first day of the new year. Ponebshek admitted he lit a few but said the fire didn't start until an hour and a half later. 
"I set off a couple at midnight, carefully checked there's no problem. And then I went inside and it didn't occur to me that other people's fireworks were gonna cause a problem for me too," Ponebshek said. 
Ponebshek was tipped off to the flames when the online game he was playing stopped working. He said he walked to another room to check the internet and saw the curtains on fire.  
"It was just small at that point, so I started looking for my fire extinguisher, and then the fire grew insanely fast. And I realized I just had to get out of there," said Ponebshek.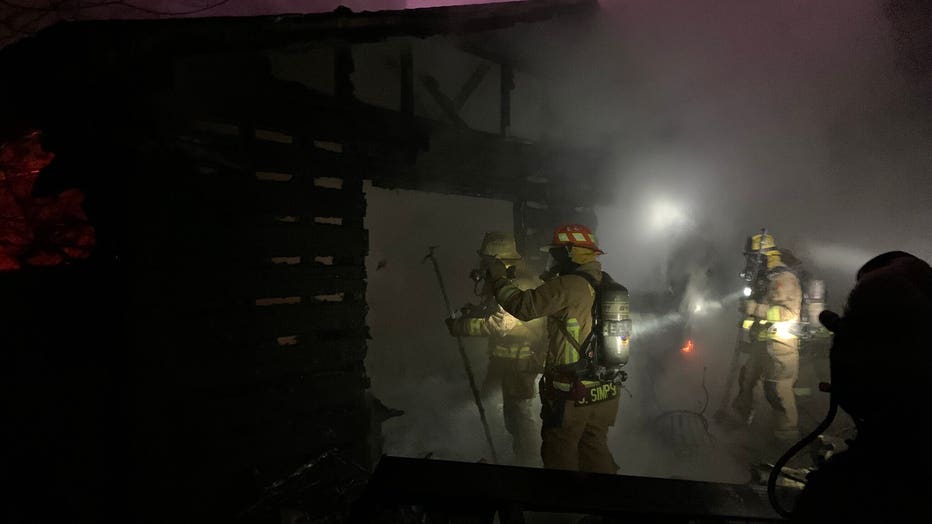 Photo of fire at home on Putnam Drive courtesy Austin Fire Department.
He quickly realized he would have to run for his life. "I couldn't see through the smoke and I couldn't breathe. And I also was naked and I had to escape out on the streets naked because I didn't have time to grab anything," Ponebshek said. 
By the time firefighters were able to put out the flames, the home was already a total loss. A fire inspector said the damage totaled $275,000. "Most of the floors are just covered with ash and burnt up debris from the roof, the attic area," said Ponebshek.  
It's a lesson Ponebshek said he hopes no one else has to learn, not to set fireworks off in a neighborhood, especially when people might be sleeping.
RELATED: Williamson County Fire Marshal offers fireworks safety tips
"I was a huge fan of fireworks two days ago. Now, I don't think I'm gonna mess with them anymore," Ponebshek said.  
Setting off fireworks is illegal in Austin city limits. The Austin 3-1-1 app shows more than 50 fireworks complaints were reported there between Thursday afternoon and Friday evening.