Northwestern State cancels football season after death of Texas player Ronnie Caldwell
HOUSTON - A well-known Louisiana university has canceled the remainder of its football season after the recent death of a player.
Northwestern State University of Louisiana announced on Thursday the rest of its 2023 football season will be canceled to prioritize the mental health and well-being of its student-athletes after junior safety of the Demons football team, Ronnie Caldwell was shot and killed.
RELATED: Loved ones, community mourn loss of former Cedar Park HS football player killed in Louisiana
According to Natchitoches Police, officers responded to 3800 University Parkway on Oct. 12 around 1 a.m., after reports of gunshots in the area. Caldwell was found suffering from several gunshot wounds and died from his injuries, officials say.
"Ronnie was a beloved member of our community, and we miss him dearly," said President Marcus Jones. "While our instinct was to return to the field of play following his death, we've since learned that the hurt on our team was too deep. Now it is in the best interest of our players, coaches, and staff to pause and to take this time to mourn, to heal, and to support Ronnie's family."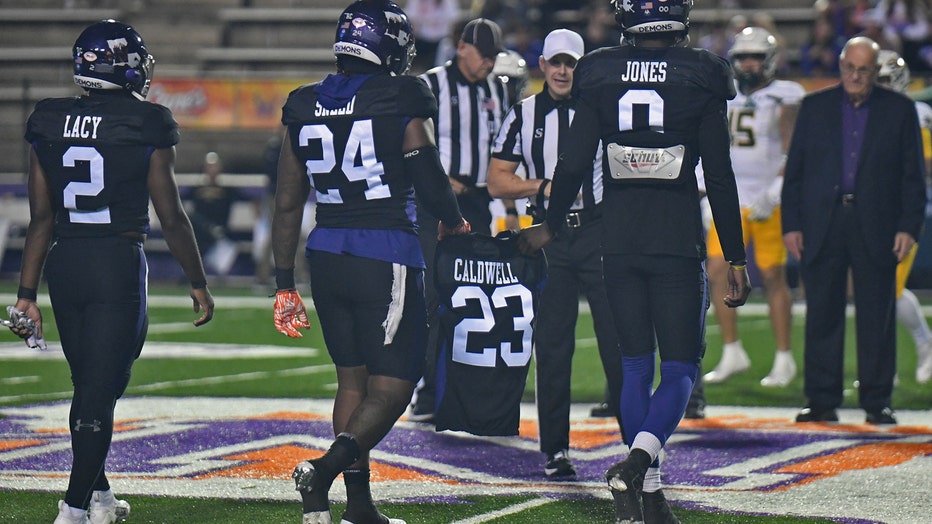 Left to right: Northwestern State University #2 Kennieth Lacy, #24 Trevion Sneed. jersey of #23 Ronnie Caldwell, and #0 Travon Jones (Photo by Gary Hardamon/Northwestern State University Demons football)
Caldwell was from Cedar Park, Texas near Austin. Before his death, he was dealing with an injury and traveling with the football team in a coaching capacity, helping other defensive backs with their technique and schemes, the school said.
SUGGESTED: Roderick Brooks: Harris County deputy faces first-degree felony murder charge in fatal shooting
This investigation into the shooting is ongoing and the Natchitoches Police Department will release more details as they become available.
Head coach Brad Laird also turned in his resignation after his sixth season as head coach.
FOX 26 Houston is now on the FOX LOCAL app available through Apple TV, Amazon FireTV, Roku, Google Android TV, and Vizio!
"We appreciate Coach Laird's long-term investment in Northwestern State football. From his undergraduate time as a record-setting quarterback to his year spent overseeing the university's alumni office to coaching, he has been a vital member of the team," said Kevin Bostian, NSU's athletic director. "While we are disappointed not to be able to finish the season, we are confident that better days lie ahead for Northwestern State football."
If you have additional information about this investigation please get in touch with Detective Shermaria Lewis at 318-357-3914.