NYPD rescues 22 dogs trapped in car in sweltering heat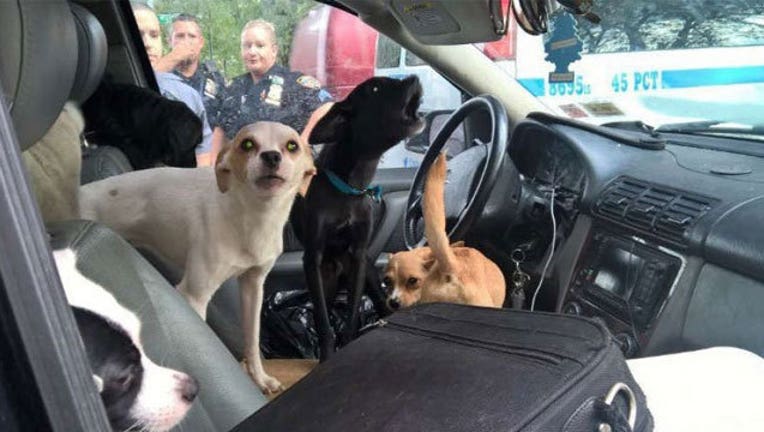 article
It was a dog day afternoon for nearly two dozen pups trapped in a hot car in The Bronx.
The 22 sweltering canines were found panting, sick and covered in feces Monday afternoon in a parked Mercedes-Benz SUV — along with a 54-year-old woman — on Edison Avenue and Middletown Road in Pelham Bay.
The car reeked by the time cops discovered the car, a sign they had been trapped inside for a while, sources said.
The woman, who cops say is emotionally disturbed, was taken to Montefiore Medical Center for treatment, cops said.
One 14-to-16-week-old puppy needed treatment for a severe intestinal condition, according to Kim Stein, a coordinator of the Adore-A-Bullie Paws and Claws rescue group, which helped place many of the pups in foster homes.
Another puppy had a condition called "cherry eye," which made him appear like his eyelid was sticking out of his eye, she said.
Stein said her organization had been receiving calls about the woman driving around the Bronx with dogs in her car. Members of the organization reached out and asked if the woman wanted free vet care and food for the animals, but she declined, Stein said.
Stein said the dogs are now making a speedy recovery.
Read more on FOX NEWS.