Officials discuss next steps as Austin elevated to Stage 5 restrictions
AUSTIN, Texas - Local leaders held a news conference today to announce that Austin has been elevated to Stage 5 COVID restrictions. It's the first time Austin Public Health has officially increased the COVID-19 community risk level to the highest level since the pandemic's start.
Officials say the change was made due to a rapid increase in hospital admissions, cases, and test positivity rates across the community. Other indicators like the number of patients in ICU, ventilator usage, and the 7-day moving average of cases are all also trending upward officials say.
"This is a critical moment for the community," said Dr. Mark Escott, Interim Austin-Travis County Health Authority, says in a news release. "We must decrease the spread of the virus in the community now. We cannot allow another increase in cases and hospitalizations following the upcoming holidays. Our hospitals will become overwhelmed and people will needlessly die."  
DOWNLOAD THE FOX 7 AUSTIN NEWS APP
RELATED: Austin-Travis County COVID-19 orders extended through February 16
With the Austin area moving to Stage 5, new guidelines include:
No gatherings with anyone outside of your household

Dining and shopping should be limited to essential trips

Avoid non-essential travel

Businesses are recommended to operate through contactless options (I.e. curbside, delivery)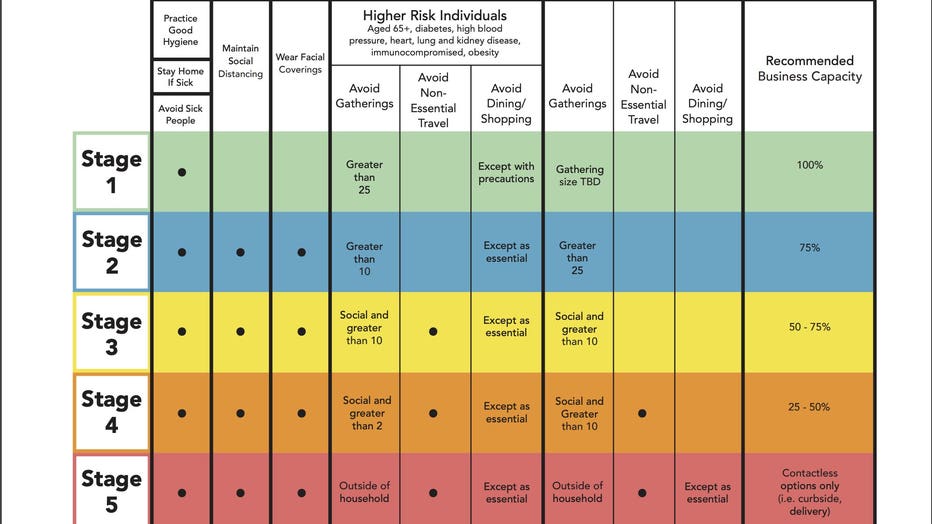 Officials remind people that the risk-based guidelines are not changes to local orders, rules, or regulations for businesses but instead they are guidelines for individual actions and behaviors. However, changes to orders or additional restrictions may be necessary in the coming days in order to prevent hospitals from becoming overwhelmed.  
Austin-Travis County leaders are also asking the public to continue to be vigilant and practice good hygiene, physical and social distancing, and wear masks to prevent the disease from spreading and help keep each other safe. Avoiding gatherings outside of your household is especially important this holiday season. You can get safety recommendations here.
RELATED: Many still traveling despite health officials advising against it
Some City of Austin services will be altered due to the elevation to Stage 5.
Austin Resource Recovery regular curbside services will not change. However, the Recycle & Reuse Drop-off Center will be closed to the public, beginning on December 24. Residents can request a contactless home pickup of household hazardous waste at austintexas.gov/dropoff. Items for reuse or recycling cannot be picked up at this time.
SIGN UP FOR FOX 7 AUSTIN EMAIL ALERTS
Austin Animal Center will close to the public beginning on December 24. Following December 25, adoptions will be done virtually and fosters, adopters and rescues will pickup curbside. The facility will not take any non-emergency owner surrenders and finders of stray animals will need to make an intake request by calling Austin 311. 
Changes to services and facility openings for Austin Parks and Recreation will be posted to their website. 
Capital Metro also issued a statement relating to the elevation saying,
"Because Austin Public Health has established that Austin and Travis County are now in a Stage 5 level of risk for COVID-19, Capital Metro encourages essential rides only to protect operators and customers who must use public transit for essential trips. All regularly scheduled services continue to operate, and COVID-19 safety protocols remain in place. All customers are required to wear facial coverings and maintain social distancing while using any of Capital Metro's services. All vehicles are cleaned daily, and electrostatic cleaning is used to ensure surfaces are sanitized. For more information on COVID-19 protocols and safety measures, please visit CapMetro.org/COVID19." 
___