Artist creates sand portrait of Colin Farrell ahead of Oscars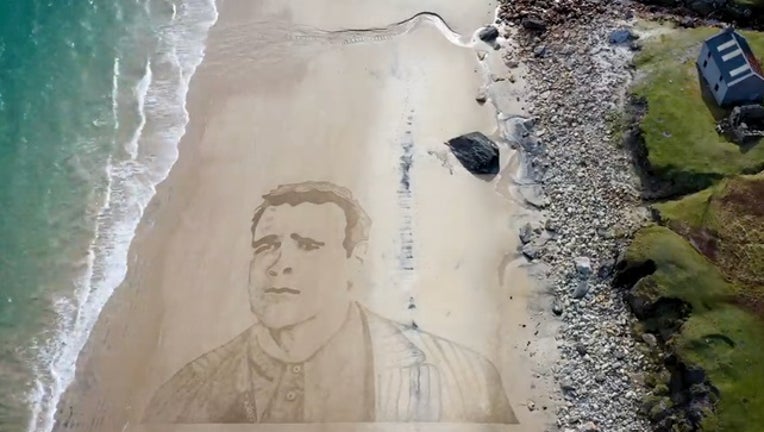 article
Oscar-nominated Colin Farrell is getting some artistic love from his homeland ahead of Sunday's Academy Awards.
Ireland-based artist Sean Corcoran created a portrait of the Irish actor in the sand of an Irish beach – the same beach where scenes of The Banshees of Inisherin were filmed.
Farrell is nominated for Best Actor for his role in The Banshees of Inisherin, Martin McDonagh's tragicomic tale of the end of a friendship. Farrell's Pádraic is the one being broken up with by Brendan Gleeson's Colm on their small Irish island in 1923.
READ MORE: Oscars 2023: Academy looks to move on from one of live TV's most infamous moments
"This portrait seeks to represent the rich support among the Irish nation for Colin Farrell, The Banshees of Inisherin and all other Irish Oscar nominees," Corcoran told Storyful.
Fourteen other Irish nominees are vying for Oscars this year, a record for the country. It's Farrell's first Best Actor nod.
Actors Austin Butler (Elvis), Brendan Fraser (The Whale), Paul Mescal (Aftersun) and Bill Nighy (Living) are also up for Best Actor.
The Academy Awards begin at 8 p.m. EDT on ABC. The broadcast can be streamed with a subscription to Hulu Live TV, YouTubeTV, AT&T TV and Fubo TV. You can also stream the show on ABC.com and on the ABC app by authenticating your provider.