Outdoor gatherings that exceed 100 people now prohibited in Travis County
AUSTIN, Texas - Travis County Judge Sam Biscoe has signed an order prohibiting outdoor gatherings of over 100 people in Travis County.
The order goes into effect at 12:01 a.m. Friday, June 26 and will continue until 11:59 p.m. Friday, July 10 unless extended, modified or terminated early.
RELATED: Gov. Abbott suspending elective surgeries in Travis County to expand hospital capacity
According to the order, outdoor gatherings that exceed 100 people are prohibited in the county except as permitted by the Governor's order GA-26. Residents are also not to socialize in groups of more than 10 people, unless individuals are members of the same residents. Within any group of ten or less, individuals should wear face-coverings and minimize in-person contact with others not in the individual's household.
RELATED: Governor Abbott pauses additional reopening phases
Gov. Greg Abbott recently issued a proclamation expanding local authority on outdoor gatherings, allowing mayors and county judges to impose restrictions on outdoor gatherings of over 100 people. Previously, restrictions could only be imposed on outdoor gatherings over 500 people. 
The proclamation follows data showing an increase in COVID-19 transmission in Texas and precedes Independence Day celebrations next week.
RELATED: Austin businesses now ordered to require face masks
As of Thursday, June 25, Texas has reported an estimated 55,125 active cases, with nearly 2,300 deaths, and almost 74,500 recoveries.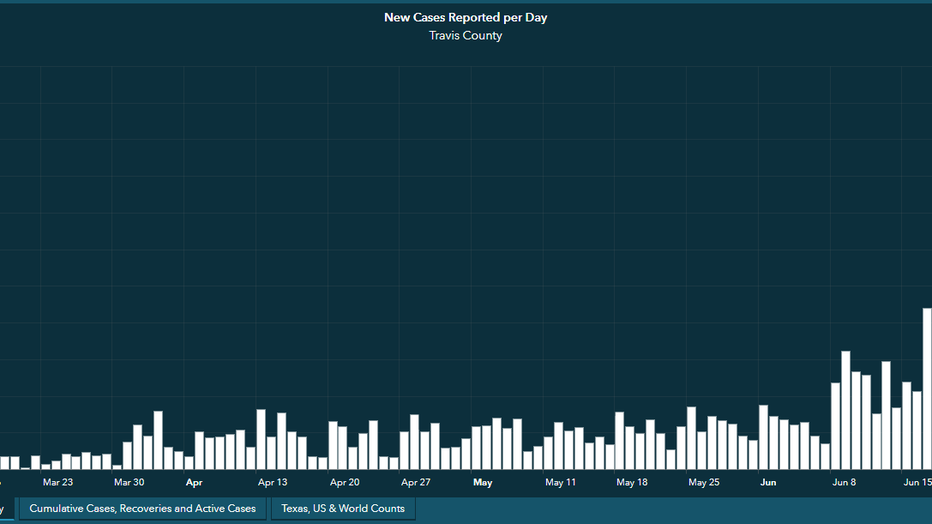 In Travis County, almost 7,000 cases have been reported, with 116 deaths and almost 4,800 estimated recoveries.
Texas DSHS shares updated COVID-19 numbers daily on their COVID-19 dashboard. Austin-Travis County also reports updated numbers through its own COVID-19 dashboard.
READ THE FULL ORDER BELOW:
CLICK HERE FOR THE LATEST INFO ON THE CORONAVIRUS OUTBREAK
FOX 7 Austin is working to keep you up to date with coronavirus, with both local and national developments. You can also get the latest COVID-19 news from around the country at coronavirusnow.com.