Pence cites Trump's 'leadership' in commencement address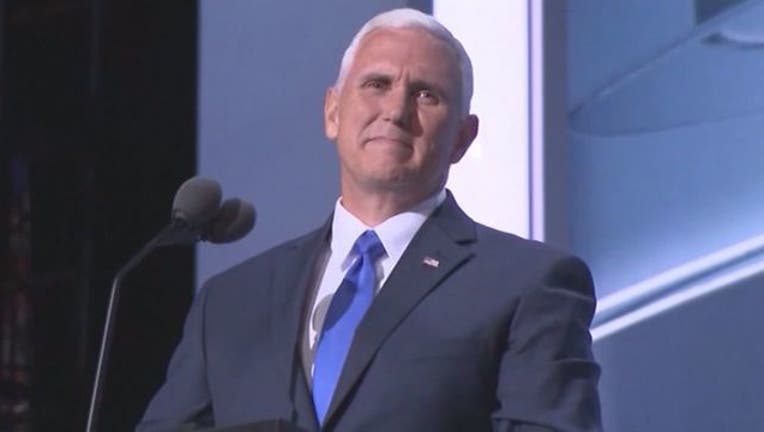 article
GROVE CITY, Pa. (AP) - Vice President Mike Pence urged graduating students at a Pennsylvania college to become leaders and cited President Donald Trump's "leadership and perseverance" as an example.
"If you aspire to lead, you'll need courage, because leadership brings both honor and opposition," Pence told hundreds of graduates and their families Saturday at the Grove City College commencement.
Grove City is a private, Christian liberal arts college with about 2,500 students, located in the borough of the same name about 50 miles (80 kilometers) north of Pittsburgh.
"Anyone who dreams big will encounter those who think small. Anyone who dares to step forward will find those who'd rather they stay put. And anyone who thinks they can will always hear from those who are sure they can't," he said.
Pence cited Trump as "an example of leadership and perseverance" to applause from the crowd, citing the president's efforts on the economy, education, security and - to more applause - for standing "without apology for the sanctity of life and all the God-given liberties in the Constitution of the United States."
"But as the president said just about a week ago in a ceremony just like this, 'Nothing worth doing ever came easy,'" Pence said. "'Following your convictions means you must be willing to face criticism from those who lack the courage to do what's right,'" the vice president quoted the president as saying.
Pence told graduates to inspire those around them, since people follow those they respect, but they should "aspire to be men and women of character" and aspire to service rather than selfish ambition.
After his address, Pence, who was also awarded an honorary degree, stood on the platform and shook hands as each graduate passed after being handed their diplomas. Officials said the graduating class of 606 was the largest in the school's history.
Demonstrators from several groups marched around the college during the commencement, but the protest caused no disruptions during the event. Organizer Carolyn Steglich said the goal of the march was to voice opposition to Trump administration policies regarding the environment, gay rights and health care.