Pflugerville father, daughter survive violent Christmas Eve truck fire
PFLUGERVILLE, Texas - A Pflugerville family believes they have experienced a Christmas miracle, having survived a violent truck fire on Christmas Eve. 
It is an incident that's burnt into the road and etched into Alicia Ayon's mind. 
"It's hard to talk about because I replay it a lot, just as a mom," she said. 
Ayon first learned something was wrong when she received a call from her boyfriend James Kanirie. 
"He was hysterical, and just saying 'I barely got [our daughter] out, we barely got out of the car.'" 
RELATED: Woman jumps out of window to escape fire that destroyed Dallas home on Christmas morning
Kanirie's new Ford F-150 had burst into flames on the SH-130 service road in Pflugerville near Pecan Street and the Pflugerville Parkway during a shopping trip with the couple's five-year-old daughter, Kaylee.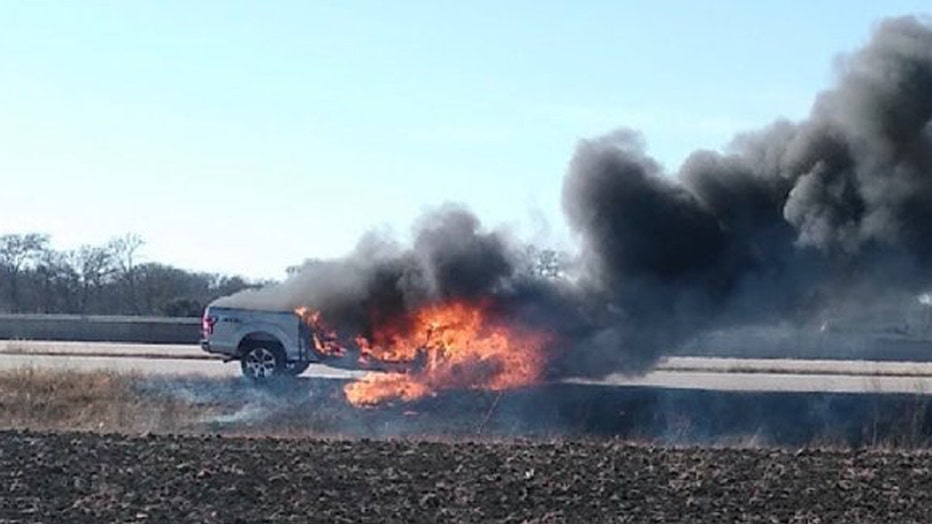 "We kind of smell something, start seeing smoke. So, I pulled over right away and told Kaylee to go ahead and get out of the car... as soon as we get out we started seeing flames -- and then, by the time we ran to the field and turned around, the whole thing was engulfed," Kanirie explained. 
The fire was so intense it even spread to the nearby field. 
"Everything was blocked off. There were several police officers and fire trucks. It was just a scene that no mom wants to pull up to and it was really hard." Ayon said.
RELATED: Donations help homeless Austin mother, son have a roof over their heads for Christmas
Thankfully, first responders were able to make the "really hard" situation a bit better for little Kaylee.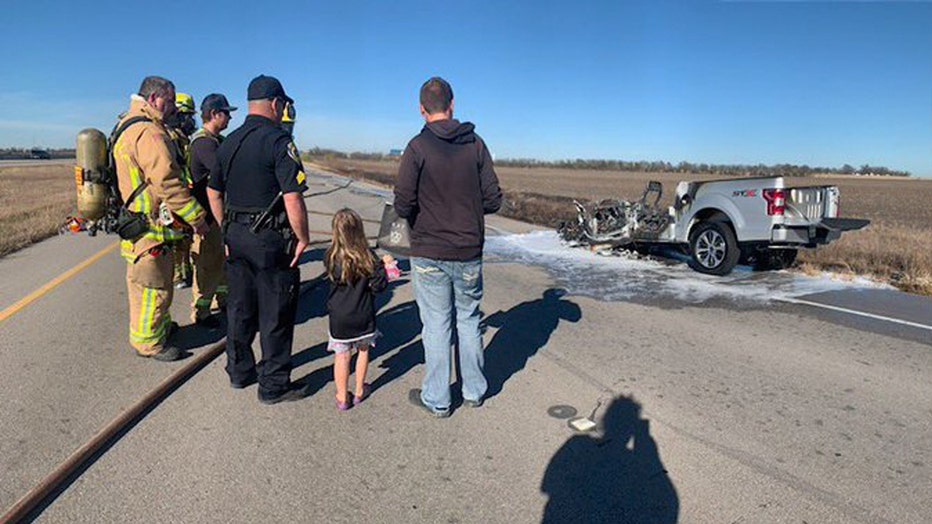 "They give me stuffed animals and a lot of stickers!" she said. 
On Wednesday, the family remained unsure of what exactly caused the fire. Kanirie bought the truck just three months ago. In November Ford put out a recall for select 2019 and 2020 F-150s. An issue with a battery fastener can cause a number of issues -- including fires.
"I hope people just research, research, research before they purchase a vehicle," Ayon said. 
RELATED: New Hampshire baby delivered along I-93 Christmas morning
The truck is a total loss, but Kanirie was able to save something special: an engagement ring for Ayon. He and Kaylee had been out getting it sized when the car went up in flames. He had been hoping the proposal would be a surprise, but Ayon spotted the jewelry bag on the scene during the fire, leading to a bittersweet reveal.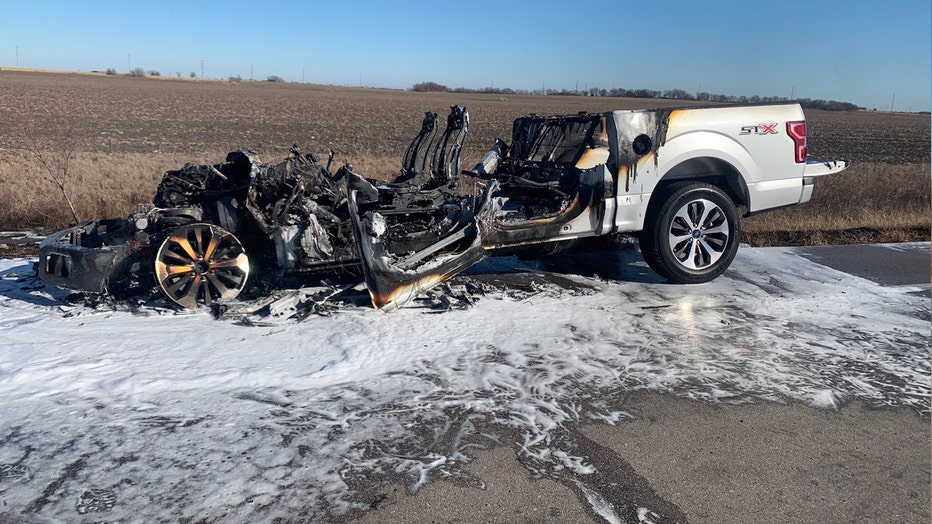 "It was extremely hard. But I am grateful every minute since that they're okay. That they're here, we all woke up together this morning to celebrate Christmas and that's -- that's more than anything." she said. 
Kanirie says he plans to stick to his original proposal plans, despite the big reveal. He will be popping the question sometime next month.