Pflugerville & Round Rock police investigating separate attempted child luring incidents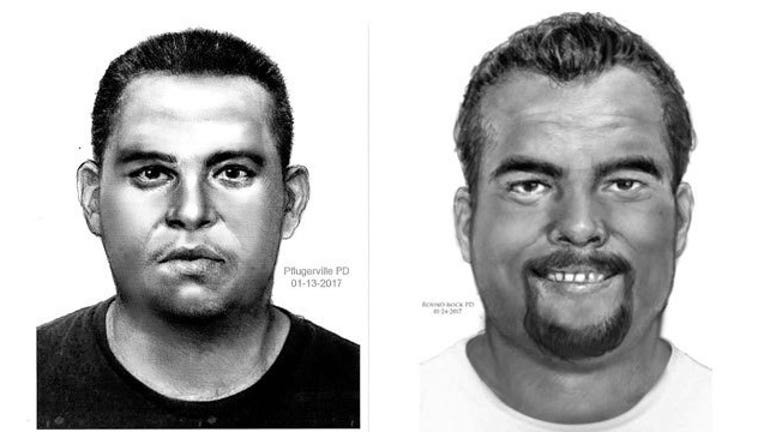 article
PFLUGERVILLE, Texas - Police in Pflugerville and Round Rock are investigating two separate attempted child luring incidents and are asking the public for help in identifying possible suspects.
The first incident happened on January 4. Pflugerville police learned of an incident involving an unknown adult male who attempted to offer a ride to an 11-year-old female walking home from school in the 17000 block of Tortoise Street.  
The suspect is described as a possibly Hispanic male, believed to be 50-60 years old, average build, black and grey hair and short facial hair. Police say the man may have been wearing transition eyeglasses with a gray shirt. The victim also said the suspect spoke with a Hispanic accent.
The second incident happened on January 13 in Round Rock. Round Rock police received a report from a woman who said her juvenile daughter was the victim of a possible kidnapping attempt.
The suspect reportedly approached the juvenile as she was walking home from school. The juvenile saw the suspect's vehicle drive by, pass her and make a U-turn prior to him approaching. As she was walking near the 900 block of McNeil Road, the male approached her in a vehicle and grabbed her. The victim was able to escape.
The suspect is described as a Hispanic male, between 30-40 years old, medium build with a round stomach, medium complexion, short curly hair, with wrinkles and a goatee. He has tattoos on his right forearm. No vehicle description is available at this time.
Officials ask parents to remind children about STRANGER DANGER. Police encourage parents to talk with their children about what to do if a stranger approaches. 
Running away, going to a safe place and telling an adult, is the right thing to do.
Children should walk with friends, or a group of friends when going to school or other destinations.
Remind children that if a stranger offers a ride somewhere to say no and run away.
If someone approaches on foot, get away as quickly as you can. It's ok to make noise and draw attention to yourself.
If someone is following you in a car, turn around and go the opposite direction or take a path a car cannot go.
Parents should play it safe and report suspicious incidents to local police.
Anyone with information should to call Pflugerville Police Tip Line at 512-670-5700 or email CIDtips@pflugervilletx.gov.