Pflugerville seventh-grader to star on 'Chopped Junior'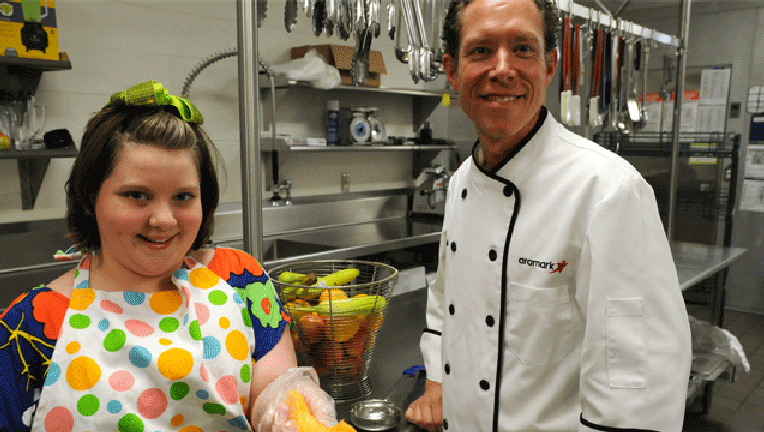 article
PFLUGERVILLE, Texas - A Pflugerville ISD seventh-grade student will be taking her culinary abilities to Food Network, where she will appear on the fourth season of Chopped Junior.

Caroline Coleman of Kelly Lane Middle School will appear on the television show on Sept. 27 at 7 p.m. In May Coleman traveled to New York for a week to film the show.

"It was really fun because it was a new experience that I'd never been in," Coleman said. "They were really nice to all of us."

The middle child of a Pflugerville ISD librarian (Jennifer Coleman of Murchison Elementary) and assistant principal (Brett Coleman of Pflugerville Middle School), Caroline appears quiet and reserved – until the topic turns to the culinary arts. That turns the musical theatre admirer into an exuberant wellspring of happiness.

She gushed about the Chopped Junior experience. Producers made filming enjoyable, she noted, and there were limo rides and other associated perks of being on the show, including catching a pass from Super Bowl-winning football player and show celebrity judge DeMarcus Ware.

Looking back, Caroline said she circled back and forthbetween disbelief and acceptance of her time in the limelight.

"At first I was like, 'Wha-, what?!'" she said. "Then you get used to it, and you freak out again, and then you get used to it. It's just a cycle."

Her mother agreed the experience was surreal at times, but also noted it seemed natural, since Caroline's been cooking since she was 3 or 4 years old, and has long been a fan of the show.

"I can't say enough great things about how the whole experience was from beginning to end," said Jennifer Coleman. "I'm still getting lovely emails about her episode."

Caroline began cooking with her grandmother, Lorraine Bingham, learning Polish food recipes. That spawned her love for cooking, which led her to Foodie Kids Culinary Center in Austin – a cooking school for children from 2 to teen ages – and later to Central Market, where she continues learning about food. Two years ago, she took second place in PfISD in the Aramark "Chef Patrick's Pals" Junior Chef competition.

"I make a lot of pizza. I love making dessert: dessert is my favorite thing to make," she said. "I've tried torching. It's kind of scary, but I've gotten used to it because I've tried to brulée sugar on top of meringue but sometimes I burn it on accident."

On Chopped Junior, children get tasked with making dishes from mystery ingredients under tight time constraints. Only one can be crowned Chopped Junior Champion, while others must face the chopping block.

Whether Caroline wins or not remains to be seen, but her future is already well mapped out because of the culinary arts.

"My plan is after my senior year of high school, I will move to New York," she said. "I'm going to go to CIA (Culinary Institute of America), I'm going to get my food management degree, maybe my pastry chef degree, and then I'm going to move back to Texas. I'm going to open a restaurant – I'm going to keep building those in the Texas area. Then I'm going to go back to New York and I'm going to build my restaurants in New York and then I'm going to have my restaurants everywhere."

In the near future, Caroline will depart to appear on a new culinary show, hosted by famed hot-tempered chef Gordon Ramsay. This time, her mother will join her on-air. Details on that show are expected to be forthcoming.