Police officer fatally shot in traffic stop; suspect on run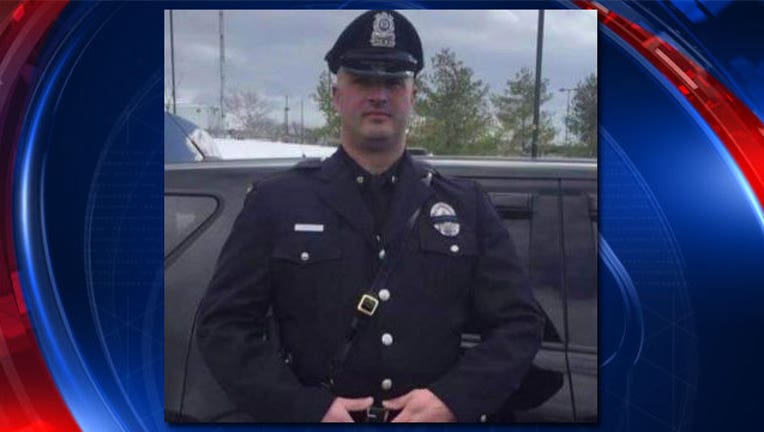 article
AUBURN, Mass. (AP) — A manhunt was underway Sunday for a suspect who shot and killed a police officer during a traffic stop in central Massachusetts, authorities said.
Auburn police Officer Ronald Tarentino was shot about 12:30 a.m. Sunday after stopping a vehicle on a residential road, Chief Andrew Sluckis said during a news conference. The vehicle's occupant shot Tarentino and then fled the scene, Sluckis said. Auburn is about 45 miles southwest of Boston.
The 42-year-old Tarentino was taken to UMass Medical Center in Worcester, where he was pronounced dead. He had been with the Auburn police force for two years and before that worked with the Leicester Police Department in his hometown.
Police did not provide details about the suspect, saying the investigation is in the early stages.
"We will leave no stone unturned in our investigation to determine who was involved," Sluckis said. He called Tarentino a "dedicated and brave public servant."
State and local police officers lined up outside the hospital as a police vehicle, escorted by a procession, took Tarentino's body to the state medical examiner's office in Boston, where the vehicle was met by another large contingent of officers.
Tarentino was the second police officer to die in the line of duty in Massachusetts this year. State police Trooper Thomas Clardy was killed March 16 when his cruiser was struck by another vehicle.
Outside the Auburn police station, the American flag was lowered to half-staff. The town's residents left bouquets of flowers and miniature American flags piled at the bottom of a stone monument dedicated to law enforcement officers who've been killed in the line of duty.
Residents in Tarentino's Leicester neighborhood remembered him Sunday as a pleasant family man. Tarentino is survived by a wife and three children.
Phillip Stanikmas told the Worcester Telegram & Gazette that Tarentino kept an eye out for his 91-year-old mother when she was home alone. Stanikmas said he was "distraught" when Tarentino left the Leicester Police Department because he was a "great guy."
"I wanted him to stay in Leicester," Stanikmas said.
___
This story has been corrected to show Tarentino was with the Auburn police two years, not three.
___
Associated Press writer Amy Anthony in Providence, Rhode Island, contributed to this report.