Portion of Lamar Street renamed in honor of Botham Jean
DALLAS - A street in Dallas has officially been renamed in honor of Botham Jean.
Jean was shot and killed in 2018 by Amber Guyger, who was a Dallas police officer at the time.
Earlier this year, Dallas city leaders approved renaming a stretch of South Lamar Street, which includes the Dallas Police Headquarters.
Botham Jean Boulevard will be between Interstate 30 and South Central Expressway.
RELATED: Dallas City Council approves renaming street after Botham Jean
The Dallas Police Department and South Side Flats, where Jean lived, are both on South Lamar. On Saturday, that portion of the street changed names to Botham Jean Boulevard.
Saturday afternoon, Jean's family members, Dallas city officials, and civil rights leaders gathered in a ceremony to dedicate Botham Jean Boulevard.
Botham Jean is a name that strikes all sorts of emotion across Dallas. Now, his name is officially marked near the scene of his tragic killing.
His family hopes it spreads memories of the positivity he brought to the world.
A name to now always be remembered, as people drive past Dallas Police Headquarters on Botham Jean Blvd.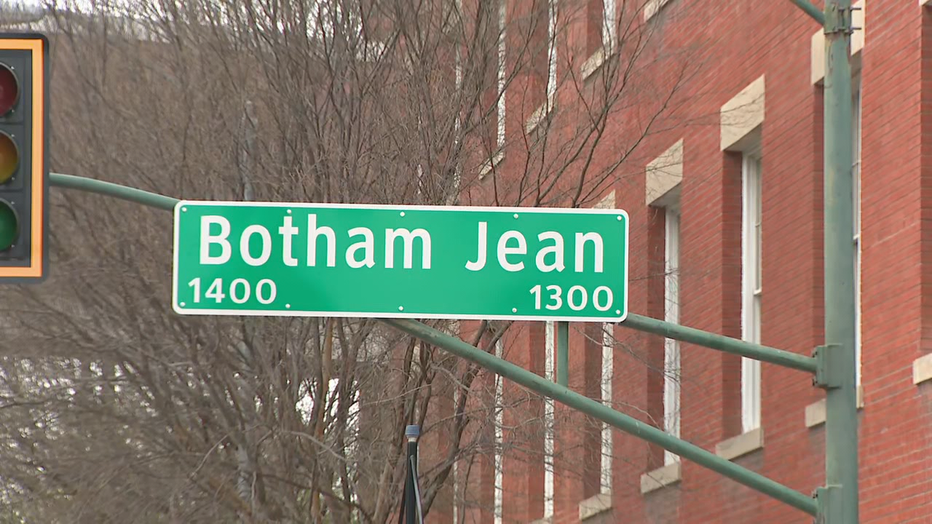 "Immediately following his death, one of the things that I said was that I want his name to be remembered, that I want people to know who he was, what he stood for," Botham's mother, Allison Jean, said.
Back in September 2018, Botham was shot and killed in his apartment by Guyger.
She had just gotten off work, lived one floor beneath him, and said she mistook his apartment for hers, believing he was an intruder.
That apartment complex is now also off Botham Jean Blvd.
"It is with great honor that I stand before you today on Botham Jean Boulevard," Botham's sister, Alissa Finley, said.
Though it was also a bittersweet reminder.
"It's all reminders that he's not here and that part is really hard," Finley added.
"But we must stand up and fight against injustices," Botham's father, Bertram Jean, said.
City leaders who made the renaming possible shared the stage with Jean's family, even as the city itself faces a wrongful death lawsuit in the case.
"His life was taken tragically and prematurely through no fault of his own," Dallas Mayor Eric Johnson said.
Civil rights leaders were also ringing calls of action.
"We have to do more to be like Bo," attorney Ben Crump said.
Family, while emotional, heard stories from friends and songs from a choir Botham belonged to.
"He had this quest to make this world a better place," Botham's mother said.
A street sign doesn't bring back her son, but she wants it to serve as a reminder for ones to be more like Bo.
"He was very Christ-like. He lived his life always thinking of reaching out to people. Black, white, Latino, Chinese, Indian, everyone. He did not know any color," she explained.
Miles York does not want the name change.
He owns the Shaving Bar on Lamar, and said not only will he be reminded in a negative way what took place, but changing his business name would cost him thousands of dollars.
"So now, every time I got to think about this name, this man got killed, and that's a sad thing to happen," he explained. "I'm going to keep my name the same, not changing name to Shaving Bar on Botham. That sign right there cost me $3,000 to put up."
But Botham's family said the street renaming will serve as a reminder.
"It's a reminder that we are all, and your children, are susceptible to the same fate as Botham," Botham's father, Bertrum Jean, said.
Botham's mother said the street name change does bring some consolation.
"Every single Dallas police officer has to say his name, yeah?! Where do you work? what's your address? 555 Botham Jean Boulevard. They will say his name," she said.
She said she hopes people will always remember his name, but also realize her pain will never end.