Pro-Palestinian protesters occupy University of Michigan administration building
ANN ARBOR, Mich. (FOX 2) - A large pro-Palestinian protest with hundreds of students and others barged into an administrative building on the campus of the University of Michigan.
Until approximately 11 p.m. Friday, protesters remained inside the Alexander G. Ruthven Building, demanding to speak with school president Santa Ono, to urge the school to disinvest in Israel using a sit-in tactic of civil disobedience.
The UM group, Students Allied for Freedom & Equality, organized the rally that turned into a large-scale protest involving more than 45 other campus groups.
In response, police were present on campus and at the building, keeping protestors from entering the president's office.
"I just think the university needs to hold itself to its own standards, where it divested from Russia within a week of it invading Ukraine, but it's refusing to even acknowledge that what's going on in Israel is not good," an attendee said. "I think the University of Michigan needs to take a new look at its own values."
One of the protesters went inside the building and opened doors for the crowd, which quickly flooded past the one police officer and security worker outside.
The rally began with a march that went through the Diag before heading to the administration building with chants of "From the river to the sea" and "Free Palestine" along with Palestinian flags and signs demanding a ceasefire.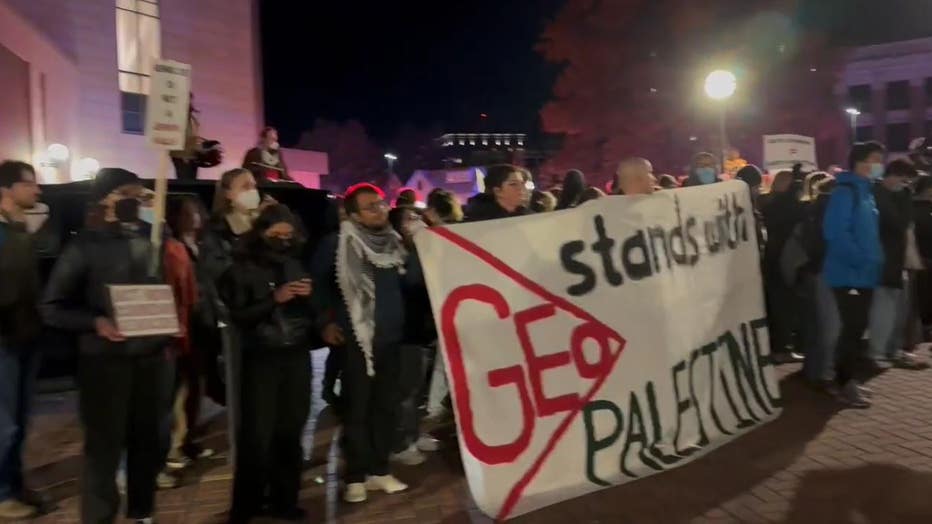 "We've been in contact with the administration, the advocates have, and they've given us all nothing but non-answers and action is what needs to happen," the attendee continued. "We don't want to hear words."
Several attendees said that protesters inside the building were being denied water and are being kept from using public restrooms. 
While the protest came to an end without reaching the goal in mind, protesters said they will keep fighting for innocent Palestinian civilians.