Rand Paul courts the tech community at SXSW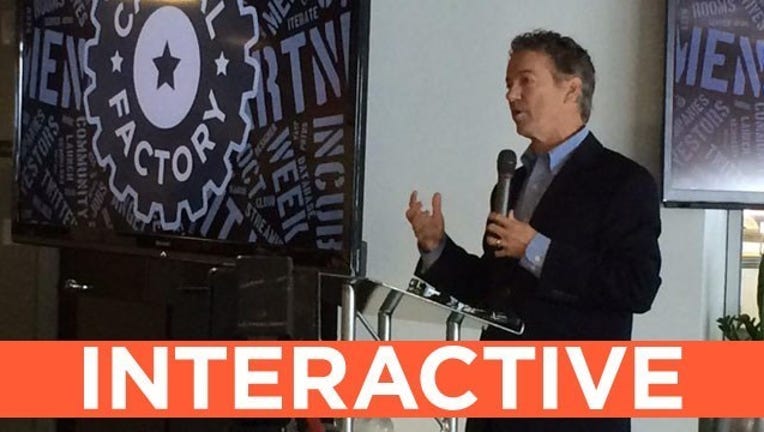 article
AUSTIN, Texas - Kentucky Senator, and possible presidential contender, Rand Paul wrapped up his trip to Austin by leaving behind two staffers.
It's part of his effort to court the technology community that's here for South by Southwest.
Senator Rand Paul's visit to the capital factory, on the top floor of the Omni Hotel, was not an official campaign stop. But the Monday morning stop had the makings of one.
"People keep asking me, why are you in Texas and not in New Hampshire? Well because if you want talent you got to go where the talent is," said Senator Paul.
The Republican Senator announced the purchase of membership at the business incubator. For the next few months two staff members will work in a common area, in an attempt to develop new campaign software.
"Why am I here, as a politician and potential candidate because we can use technology to reach out and spread a message in extraordinary ways," said Paul.
Putting staff in an incubator may not only hatch a new idea, it could also help scratch up support from an emerging voter base. The tech community is in Austin now for the interactive media portion of SXSW.
Senator Paul arrived in Austin over the weekend. The trip is a chance to connect with the young, vocal base that supported the Senator's father who ran several colorful but unsuccessful White House bids.
" What he is doing is he is saying, I'm trying to get my feet wet in Texas politics get some of the money going and if it works I may run for President if not I'm just here to innovate," said St. Edward's University political analyst, Dr. Brian Smith.
The visit, according to Smith, puts the Senator on a big stage which he doesn't have to share.
"So for Rand Paul, he is saying I'm coming to Austin. In the spot light I will be the Republican it will be all about me, and I'll have this limited time to get a message out and not have to sharing it with Ted Cruz, Rick Perry or Jeb Bush, it will all be about Rand Paul," said Smith.
The Senator may be preaching innovation while here in Austin, but he is not against doing some old school politicking. He is heading up to New Hampshire and will join other GOP contenders on that unofficial campaign trail.