RECALL: Portable speakers recalled due to explosion hazard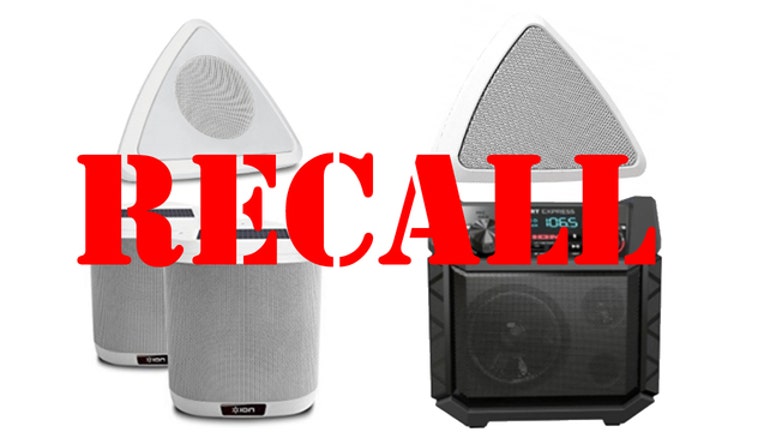 (FOX 7 Austin) - ION Audio has announced a recall of some of their portable speakers due to an explosion hazard.
The speakers affected are the Sport Express, Cornerstone, Cornerstone Glow and Keystone portable speakers. ION Audio announced the recall on May 21 after receiving five reports of speakers exploding with four of those resulting in property damage. No injuries have been reported.
According to the recall, hydrogen gas can leak from the speaker's battery when charging and the speaker can then burst. About 41,000 units are effected by the recall.
The Sport Express speaker is black in color, about 9 inches wide and 9 inches tall, with two knobs on the front and a neon blue lit clock. It was sold exclusively at Best Buy from June 2018 to May 2019 for around $70.
The Cornerstone and Cornerstone Glow speakers are triangular in shape, have a white outer casing, and are 14 inches wide and 10 inches tall. The Keystone speaker is square with a white casing and gray center. It is about 8 inches wide and 9 inches tall. These were sold at various electronic stores nationwide and online from March 2016 through March 2019. The Cornerstone speakers were sold for around $100 and the Keystone sold for about $200.
Those with these speakers are instructed to immediately stop using the products and call ION Audio for a refund in the form of an ION Audio gift card.
Consumers can contact ION Audio toll free at 833-682-0371 between 8:30 a.m. and 6:30 p.m. EST Monday through Friday or online.
For more information on the recall, visit the US Consumer Product Safety Commission's website.