Retired detective 'thrilled' by Tupac Shakur murder arrest
LAS VEGAS - After nearly three decades, a significant breakthrough emerged in the infamous murder case of legendary rapper Tupac Shakur.
On Friday, 60-year-old Crip gang leader Duane "Keffe D" Davis – the alleged orchestrator of the drive-by shooting that claimed Shakur's life – was indicted by a grand jury.
A retired detective of the Los Angeles Police Department, Greg Kading, told FOX Television Stations that Davis' self-incriminating statements provided the impetus needed to move forward with the case.
"He first confessed back in 2009, but his confession back then was under a protected agreement where they [officials] couldn't use this confession against him," Kading explained.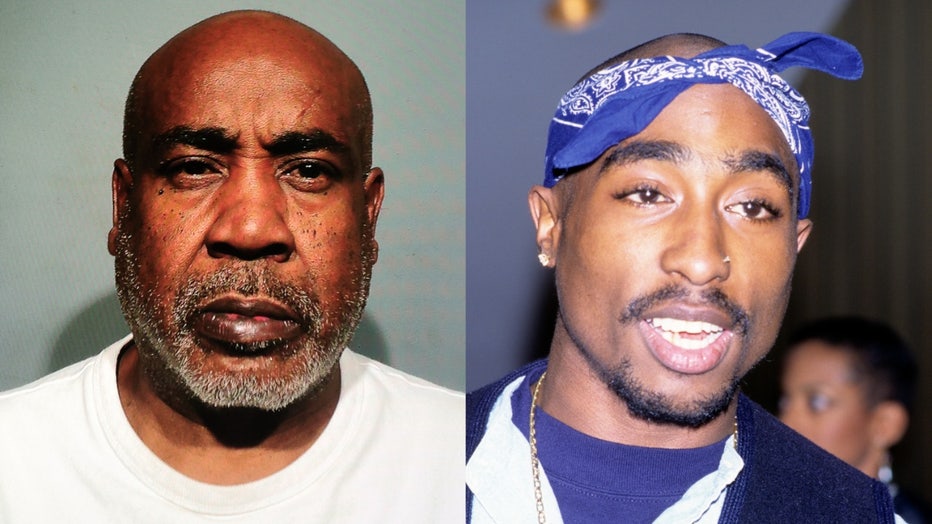 LEFT: Booking photo of Duane "Keefe D" Davis, RIGHT: Photo of Tupac Shakur. (Credit: Ethan Miller/Getty Images, Gene Shaw/Getty Images)
But authorities said Davis started publicly boasting about his involvement in the murder and even wrote a book, "Compton Street Legend," which detailed the deadly confrontation on the Las Vegas strip in 1996.
"He seemed to think that he had some type of immunity, but that was not the case," Kading continued, adding, "He did talk himself straight into his predicament, but it did take years. It took a long time for Las Vegas to get what they believed was enough evidence to secure a conviction."
RELATED: Suspect charged in Tupac Shakur's deadly shooting makes first court appearance in Las Vegas
According to prosecutors, Davis allegedly purchased the firearm used by his now-deceased nephew Orlando Anderson, who is believed to have pulled the trigger. 
"They all were acting in concert together to go out and commit the murder," Kading alleged.
The retired detective said he is "thrilled" and "elated" about the breakthrough in the case, adding that "it's long overdue."
"I would actually go beyond speculation and say that we've known for the better part of 14 years who was involved in these murders. But in law enforcement, we often have a saying that it's not what you know, it's what you can prove," Kading shared. "Now history is set correctly. Tupac's murder will never go down as an unsolved mystery again." 
As for whether any other suspects will be brought forward following this indictment, Kading thinks it's unlikely.
"I think that this is going to be basically the nail in the coffin." The other three assailants in the vehicle have all passed on since 1996, Kading said.
Among the four people in the Cadillac the night that Shakur died, Davis is the only one who is still alive. Anderson died in a May 1998 shooting in Compton. Before his death, Anderson denied involvement in Shakur's death. The other backseat passenger, DeAndre "Big Dre" or "Freaky" Smith, died in 2004. The driver, Terrence "Bubble Up" Brown, died in a 2015 shooting in Compton.
Kading concluded, "It's officially solved, and somebody is being held accountable. So I think that's good news for everybody." 
This story was reported from Los Angeles. The Associated Press contributed.