RM 2243 improvement project virtual meeting set for May 25
GEORGETOWN, Texas - Residents will have a chance to review and comment an upcoming proposed improvement project to RM 2243 in Georgetown.
The city and TxDOT will be hosting a virtual public meeting on May 25 which will include a pre-recorded presentation and other project materials.
The presentation will be posted online on May 25 at 9 a.m. and be available until June 9 at 11:59 p.m.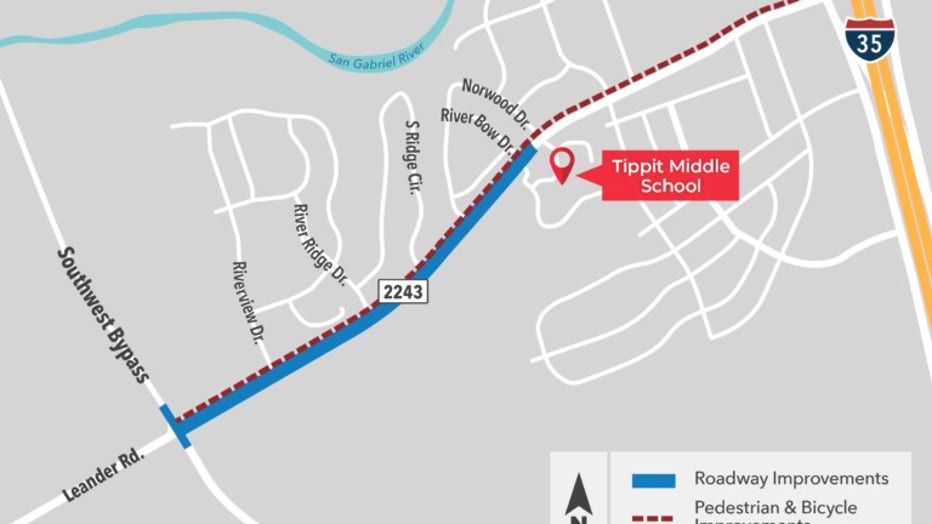 The project aims to improve safety and mobility for all travelers, provide safe turning access to and from the adjacent school and neighborhoods, improve pedestrian and bicycle connectivity, and improve access to Southwest Bypass, says the city and TxDOT.
Proposed improvements include:
Widening RM 2243 (Leander Road) from Southwest Bypass to Norwood Drive to two lanes in each direction
Adding raised medians with turn lanes
Providing pedestrian and bicyclist paths from Southwest Bypass to the I-35 frontage road
Installing a signal at RM 2243 and River Ridge Drive
Reconstructing the intersection of RM 2243 and Southwest Bypass to be compatible with nearby project plans
Additional right of way would be required; however, no residential or non-residential displacements are anticipated at this time, says the city.
Written comments may be submitted:
To record a verbal comment, residents can call 512-887-2095. Comments must be received or postmarked by June 9 at 11:59 p.m. to be included in the official record of the public hearing.