Rockwall County homes damaged by EF-1 tornado
ROCKWALL, Texas - People in parts of Rockwall County are cleaning up after early morning storms and a tornado damaged homes.
The National Weather Service sent out a survey team and determined it was a brief EF-1 tornado that caused the damage in the neighborhood.
It had winds of up to 100 mph, and lasted 2 minutes while tracking for less than half of a mile.
Most of the damage was concentrated on Candice Circle in the Bluebonnet Ridge neighborhood, and two homes in particular got the worst of the damage.
Both families were asleep inside when the storm barreled through.
The roof of a carport fell on top of cars at one home; and outdoor furniture from that house ended up in a neighbor's yard.
The front yard of another home is now littered with debris and insulation because the roof was torn off. The family's playhouse was moved back about six feet by a strong gust of wind.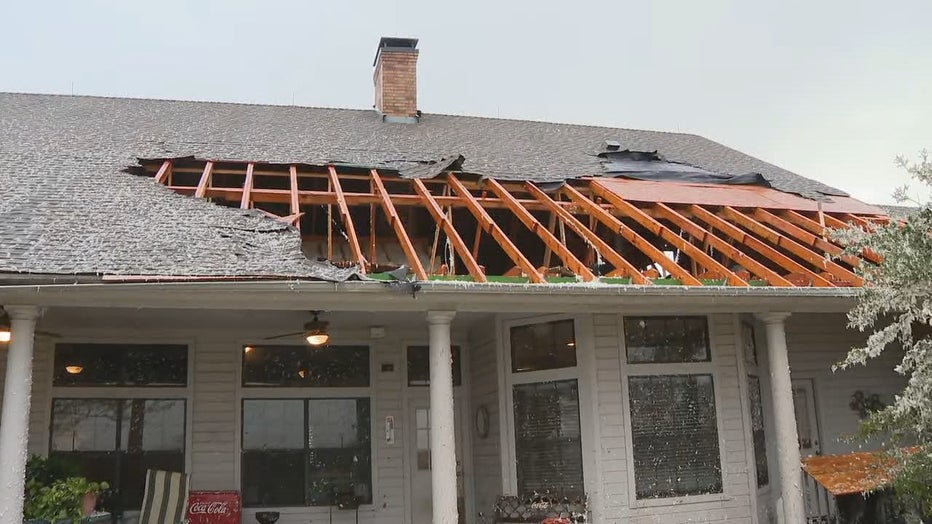 Frances Brown said she has three cows and one horse on her property. 
"I could just see out the back and I knew our roof was gone," she said. "You think it will never happen to yourself, it will happen to someone else. This time, it happened to us."
Her barn was damaged too. Thankfully, her animals were unharmed.
They were all spooked by what she described as about 10 seconds of loud, sudden breaking noises and lots of shattering glass.
"It was a little bit before 4:45 [Wednesday] morning, asleep in bed and then all of a sudden there was a racket. It sounded like the roof was banging. Things on the back patio were banging," Brown said. "There was no warning. In fact, when I called 911 they said, 'Yes ma'am, we were under a tornado watch but no report of a tornado has been made.' And I said, 'Well, ma'a,m, I just got hit by a tornado.'"
Her daughter's outdoor dollhouse was picked up and dropped several feet away.
Brown feels certain about what happened. The damage is so bad she'll have to find another place to stay for the time being.
She's grateful everyone in her family is okay.
"It was pretty scary, I'm at the point now when I'm not shaking anymore," she said.
Next door, her neighbor's giant carport collapsed.
"I was asleep, and all of a sudden, I heard this whistling noise, loud noise and banging," Dawson Swela recalled.
Swela's Hummer was parked underneath.
It's too soon to tell the extent of the damage to the SUV.
"We're going to see if they can lift it up to see if it's okay or not," he said.
His family's house was untouched.
The Rockwall County sheriff said there have been no reports of any injuries or deaths. He said 9-1-1 calls started coming in around 5 a.m.
"Just checking on the residents, making sure they're okay, if they needed anything. Kind of assessing what the damage is," Rockwall County Sheriff Terry Garrett said.
There was some minor storm damage to a couple of homes in the Chisholm Ranch subdivision.
A fence was blown over and some roof shingles ripped off.
"We're extremely lucky the damage wasn't worse than what we're seeing right now," Garrett said.
The Rockwall County Emergency Management coordinator toured the damaged areas.
"GIS is our mapping folks, so we are gathering pictures, data," Jarod Rosson explained. "That way they can build out an initial map of where the damage occurred. That way we can provide it to local leadership."
Rosson is asked people with damage to take pictures and report the damage to his office.
READ MORE:
Large patches of bluebonnets emerge across Central Texas
Jacksboro ISD students return to class one week after tornado