Family of Rodney Reed renews calls for justice 25 years after death sentence
AUSTIN, Texas - The family of Death Row inmate Rodney Reed held a rally calling for justice on the 25th anniversary of his death sentence. Reed was convicted in 1998 for the murder of Stacey Stites in Bastrop County. 
"We the Reed family are all waiting for justice for Rodney. Remember, no justice, no peace. We will continue to fight, because justice for one is justice for all," Sandra Reed, Rodney's mother, said.
"For 25 years, my family has not been whole. My mom has not had a good night's sleep. What mother could, when they know they're trying to execute their child? What brother could?" Rodrick Reed, Rodney's brother, said. 
Reed was scheduled to be executed in 2019, but the courts stopped that. After a lot of back and forth through the court system, the case is now back in the appeals court.
Last month, the U.S. Supreme Court cleared the way for Reed to pursue DNA testing on evidence his attorneys say may help free him.
RELATED: U.S. Supreme Court lets Texas death row inmate Rodney Reed pursue DNA testing in bid to prove innocence
"He's hopeful, he's very thankful that God has answered his prayers, the Supreme Court has given us an opportunity to let these people do the right thing," Rodrick said.
Reed is also waiting for a decision from the Court of Criminal Appeals after a hearing in Bastrop County looking at whether new evidence warrants a new trial.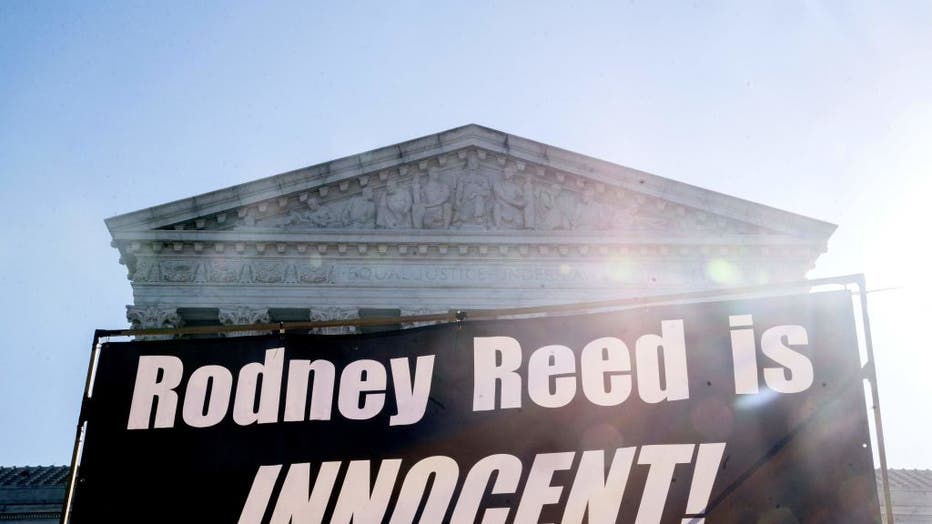 A sign is displayed outside the US Supreme Court in Washington, DC, on October 11, 2022. - The US Supreme Court will hear an appeal today from Rodney Reed, a Texas man on death row, who maintains his innocence and whose case has drawn the attention o
Reed has maintained his innocence. He spoke to FOX 7 in 2015.
"All of this evidence has been out there this whole time. And then when you have the Attorney General's office, the Texas Rangers and the Bastrop Police and Sheriff's Department, these different agencies with unlimited resources, the prosecution, the DA's office, there's all this evidence actually existed then. It's just that they wasn't the one to find it or be more forthcoming with it," he said in 2015.
For his family, the decades-long waiting game continues as they anticipate the next decision.
"How much longer should we have to wait? How much longer should we have to suffer? When the truth is out there, why aren't they testing it?" Rodrick said.