Ron DeSantis says he would support a 15-week abortion ban, after dodging direct answer for months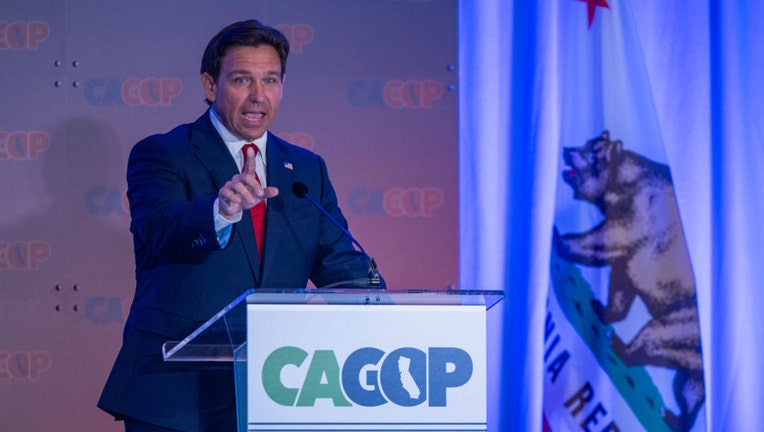 article
When Ron DeSantis seemed to say during last week's Republican presidential debate that he would support a federal ban on abortion at 15 weeks of pregnancy, some anti-abortion activists called it the news they had been waiting months to hear.
The president of Susan B. Anthony Pro-Life America, a leading anti-abortion advocacy group, issued a statement thanking DeSantis "for his commitment to support minimum federal protections for babies."
But DeSantis' campaign insisted his comment, which was the candidate's most direct answer regarding an abortion ban, wasn't anything new. And millions of voters probably missed the moment entirely.
DeSantis' pledge came during one of many chaotic exchanges on the debate stage, when Sen. Tim Scott — who has made a nationwide ban on abortion at 15 weeks a central focus of his campaign — shouted a question, asking if the Florida governor also would support it. In a bit of barely audible crosstalk, DeSantis responded: "Yes, I will."
RELATED: Ohio election revolving around abortion rights fueled by national groups, money
The exchange and the DeSantis campaign's response provided another example of the muddiness voters are encountering as they seek specific answers from Republicans regarding abortion policy. Since the Supreme Court last year overturned Roe v. Wade, the landmark ruling that established a federal right to abortion, candidates are being pressed — and sometimes stopping short of a straight answer — on whether states should decide laws governing the procedure, as the court's ruling allowed, or if the federal government should establish a standard law across all states. Some also are dodging questions about when they believe restrictions should occur and what exceptions, if any, should be allowed.
The variations on how far to go created a dust-up in the GOP presidential primary last month. Former President Donald Trump said during a TV interview that DeSantis made "a terrible mistake" by signing into law a ban on abortions in Florida at six weeks of pregnancy. Trump also said "it's probably better" from a legal standpoint for abortion to be banned by individual states, rather than nationwide through federal action. The front-runner for the GOP nomination also said he would negotiate with Democrats on abortion legislation.
RELATED: Abortion in Minnesota: Walz signs 'fundamental right' to abortion into state law
In states that hold elections in November, there has also been conflict among abortion opponents and accusations from Democrats that GOP candidates are trying to hide their true, extreme positions.
In Kentucky, where the state's strict anti-abortion law has been a major issue as Democratic Gov. Andy Beshear seeks a second term, Republican Daniel Cameron appeared to redefine his position on the law twice in two weeks. In Ohio, anti-abortion activists are at odds over messaging and campaign strategy as they try to defeat a constitutional amendment that would protect abortion access in Ohio.
And Democrats in Virginia are hammering Republican candidates for the House and Senate, saying they will pass an extreme abortion ban similar to those in neighboring states if the GOP wins full control of state government. Virginia, which currently has divided government, is the only state in the South that hasn't imposed new restrictions since Roe fell.
RELATED: Oklahoma court greenlights abortion to save mother's life
Virginia Republicans largely support Gov. Glenn Youngkin's proposal that would prohibit the procedure at 15 weeks, with exceptions for rape, incest and the life of the mother, and they accuse Democrats of fear-mongering and telling lies. Republicans also have called out Democrats for not wanting to limit abortion at all, though many Democrats favor existing Virginia law, which allows elective abortions in the first and second trimesters.
Abortions in the third trimester are rare and typically occur because of a significant fetal abnormality, experts say.
Democrats say the GOP is suddenly moderating only because of recent election results and advice from pollsters.
RELATED: North Carolina 12-week abortion ban to become law after GOP legislators override governor's veto
Political momentum on abortion has shifted dramatically since last year's decision that overturned Roe v. Wade. Voters supported reproductive rights in all six states where a question was on the ballot last year, and Democrats have credited the fall of Roe for helping the party win big races in 2022, including control of the Senate.
Trump also has blamed some GOP midterm losses on how candidates handled the issue, acknowledging its political sensitivity. Speaking at the conservative Family Research Council last month he said that politically, "it's a very tough decision for some people" and "very very hard on elections."
The former president nominated three Supreme Court justices who formed a new conservative majority to overturn Roe v. Wade. Looking ahead to the general election, he has tried to position himself as more moderate on abortion than his GOP rivals, who must win over the more conservative primary electorate if they hope to be the Republican nominee.
About half of Americans say abortions should be permitted up to 15 weeks of pregnancy, according to an Associated Press-NORC Center for Public Affairs Research poll conducted in June. The poll also found that 73% of all U.S. adults believe abortion should be allowed up to six weeks of pregnancy, which is when cardiac activity in a fetus may be detected and before women often know they're pregnant.
In that same poll, 56% of Republicans said abortion should be allowed in their state up to 6 weeks and 29% supported making the procedure legal up to 15 weeks.
DeSantis signed Florida's six-week ban last year without the fanfare of a major bill signing. After launching his presidential campaign weeks later, he has largely avoided specifics when talking about abortion.
During the first presidential debate in August he was asked directly whether he would support a federal abortion ban. DeSantis didn't answer yes or no, but said he understands different states will handle the issue differently.
He also avoided a specific yes or no answer when asked about a 15-week ban by an Iowa radio station last month, saying "I've said from the beginning of this, as president, you put pro-life legislation on my desk, I'm going to look favorably and support the legislation."
Last week, a debate moderator asked DeSantis about Republicans' struggles to win moderate and independent voters in a state such as Arizona, where a reproductive rights question may be on the ballot in 2024. He disputed the idea that the GOP lost important contests last year because of abortion, countering Trump's stance, then criticized Democrats for allowing abortion later in pregnancy.
"I think we should stand for what we believe in," he said. "I think we should hold the Democrats accountable for their extremism."
Seconds later, Scott shouted his question and DeSantis answered.
Associated Press writer Michelle L. Price in New York contributed to this report.