Round Rock approves $2B transportation plan
ROUND ROCK, Texas - Round Rock residents are no strangers to road construction.
"Residents are seeing a lot of construction already," said Brian Kuhn, Round Rock's assistant director of transportation.
But traffic cones may become even more familiar to local drivers.
"We're already building roadways, and we have more on the way," said Kuhn.
The city of Round Rock approved its newest transportation plan last week. The plan focuses on improving intersections like A.W. Grimes Blvd and Old Settlers.
Roadways like Gattis School Road, Red Bud Lane, and even Kenney Fort Boulevard will see expansions and additional lanes, too.
"We're looking city-wide at where we can get the most bang for our buck and adding capacity and adding connectivity and improving the network for all of our users," said Kuhn.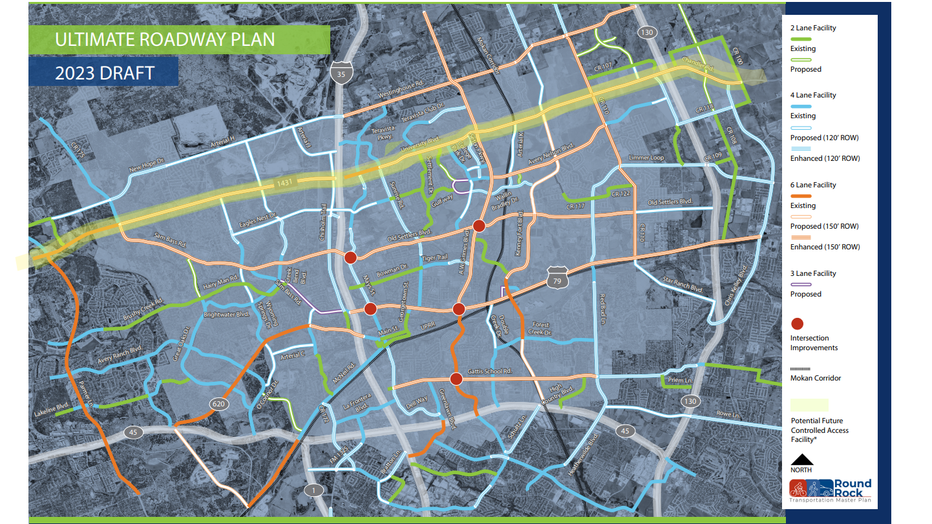 The city of Round Rock approved its newest transportation plan last week.
Kuhn said it all comes down to growth.
The city grows from about 2,000 to 5,000 people a year.
"In the master plan, they look at the growth patterns," said Kuhn. "They look at how property is zoned. They look at just what's happening throughout the city, and then they model those things."
The various projects will cost a pretty penny at $2 billion. That's almost double its budget from six years ago.
At a local level, funding will come from a portion of the city's sales tax.
Round Rock can also pay for it through TxDOT, the federal government's Infrastructure Investment and Jobs Act, and even through a regional group called the Capital Area Metropolitan Planning Organization.
"I think the big takeaway from this plan is that the city has been active in making sure that we're providing for roadway users, and we're continuing to be active," said Kuhn.
In addition to all the roadway changes, the city will be adding more bike lanes and sidewalks.