Round Rock tiny home community tackles affordable housing in a big way
ROUND ROCK, Texas - Home sweet home looks a little different for Amanda Stewart.
"We're semi-newly married, and so we lived in an apartment," said Stewart. "Just was not for us. Didn't love it."
That's when she stumbled upon Mustard Seed Village.
"When they were being built, and they were empty we were kind of like 'this looks really small,' but once we moved everything in, it feels, I mean it's bigger than our apartment was, so it actually feels really spacious," said Stewart.
There are 28 tiny homes at Mustard Seed Village. Each home is two stories.
On the second floor, there are two bedrooms, and the first floor has space for a living room, a kitchen and a bathroom off to the side.
"Having it [the bathroom] downstairs is weird sometimes, but like it's great," said Stewart. "We have everything we need in space. It doesn't feel small at all."
The 822 square feet tiny homes go for $1,375 a month.
The community opened in June, and within two weeks, it sold out.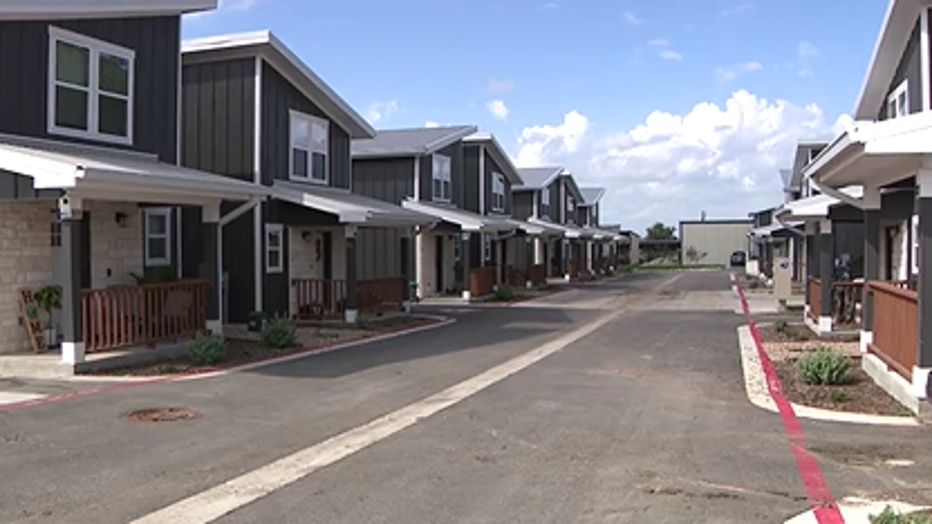 There are 28 tiny homes at Mustard Seed Village. Each home is two stories.
"We're not solving all the world's problems, but we have solved 28 people's challenges at the moment," said Rene Flores with Amplify Credit Union and a Round Rock City Council Member.
Flores helped see the idea through. He said the tiny homes are here to tackle a much larger problem.
"Housing issues, affordability, people saying 'it's too expensive,'" said Flores. "That's not just a Round Rock concern. It's a Central Texas or even a national concern. We hear about it all the time: housing, affordability, access to housing. That in itself is enough reason to take a longer, harder look at it."
A cheaper place to live opened the door for residents like Stewart to find a place to call home.
"Just the sense of community is really really strong," said Stewart. "So, like, we know our neighbors, which has not really been an experience that we've had before."
For Stewart, her tiny house is just the right size.