'Run Hide Tell' instructions probably saved lives during London terror attacks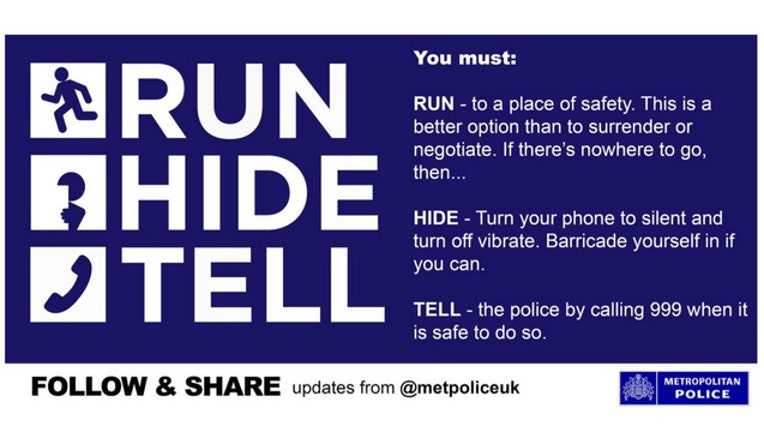 article
LONDON (AP) - College student Vashu Tyagi was leaving his dorm and heading to a nearby bar to celebrate the end of classes Saturday night in London when he saw people running frantically down the street.  As three men with large knives moved through the area, stabbing anyone in their path, police yelled at Tyagi and others to get back inside -- an order he credits with saving his life.
 
"Obviously they gave us good advice," he said. "I'm quite lucky to be here."
 
As reports of stabbings in a popular London nightspot started flowing in late Saturday, police sent out a tweet warning people in the area to run, hide, then call authorities. Officers on the scene also shouted at bystanders to disperse, a response that experts say likely saved lives.
 
Yet while the Run, Hide, Tell strategy -- known in the U.S. as Run, Hide, Fight -- has been credited with saving lives in certain circumstances, some say it's not perfect, especially when a victim's first instinct might be to freeze on the spot.
 
"The best thing you can do is to get as far away from the source of the danger as possible," said Denis Fischbacher-Smith, a risk analyst and professor at the University of Glasgow. "But it's never going to be a universal solution. It's never going to work all the time."
 
Saturday's attack unfolded over a few minutes: First, a rented van veered off the road and drove into pedestrians on busy London Bridge. Three men wielding large knives got out of the van and attacked people at bars and restaurants in the popular Borough Market. The men killed seven people and injured roughly 50 before they were shot dead by police.
 
The Run, Hide, Tell strategy promoted by the United Kingdom's National Police Chiefs' Council says that in the event of an active attack, people should first run to a place of safety. If there is nowhere to go, hiding is the next best option, setting up barricades if possible. Then, when safe to do so, victims are urged to call police.
 
France has a similar strategy, and posters providing directions are meant to hang in all public places. The goal is to make sure people are vigilant and adopt the right attitude in the event of an attack, said Cedric Michel, president of the Union for Defense of Municipal Police.
 
Fischbacher-Smith said the strategies in Europe are an evolution of the Run, Hide, Fight approach in the United States, which started in 2012 in Houston, Texas. Run, Hide, Fight is standard protocol for active-shooter situations in the U.S. It advises people to run away if possible, get out of view, and if that's not feasible, try to incapacitate the shooter if there is an imminent threat.
 
Larry Barton, professor of public safety at the University of Central Florida and a threat assessment instructor for the FBI, said the strategy saves lives, but people need to make decisions quickly.
 
"The longer you wait and deliberate ... the chances of your survivability really diminish notably," he said.
 
Hiding is easier in a school setting or office, where people know the building's layout. On the street, or in a stadium or nightclub, hiding is virtually impossible. And if someone chooses to fight, he or she has to be "all in," he said.
 
In the 2016 Pulse nightclub shooting in Orlando, Florida, roughly 40 people hid in bathrooms -- where they were trapped for hours as the gunman went through the club, then became cornered when he entered the bathroom and began shooting into stalls.
 
There are occasions in which people cannot protect themselves by running. Many people didn't have time to run when a truck careened into a seaside crowd in Nice, France, last year. More than 80 people died. Those who survived jumped from the promenade onto the beach below or threw loved ones out of the way.
 
In a study to be released later this month, Barton analyzed 61 deadly assaults in public places such as arenas, nightclubs, coffee houses or other venues from 2006 to 2016. He found that 73 percent of those who survived did so by running, and they had no injuries or moderate injuries such as a sprained ankle. Twenty percent of survivors hid, but about a third of the hiders were injured. The remaining 7 percent both ran and hid, he said.
 
But for those who are out enjoying life, running or hiding might be easier said than done.
 
Joseph LeDoux, a professor of neuroscience at New York University and head of the Emotional Brain Institute, said humans are evolutionarily programmed to freeze when there is danger, and a person can't run if they are frozen on the spot.
 
"It sort of short-circuits the entire slogan from the get-go," he said.
 
Dean Mobbs, assistant professor at the California Institute of Technology, said an individual's perception of the situation can also affect whether one flees or freezes. If someone feels they can't control a situation, or can't escape it, freezing is more likely, he said.  In addition, people tend to greet horrific situations with initial disbelief, delaying their response.
 
But he said that after three attacks in London in as many months, Londoners are more prepared and will likely react more quickly.
 
One survivor of the London attack said he decided to fight before he ran and hid.
 
Chef Florin Morariu said he first froze when he went outside the bakery and saw two people stabbing others. Then, he said, he began fighting and hit one of the attackers on the head with a crate before police told him to run.
 
"There was a car with a loudspeaker saying `go, go' and they (police) threw a grenade. ... and then I ran," he said. He then let about 20 people hide in the bakery and closed the shutters.