Runners take their marks for Cap 10K race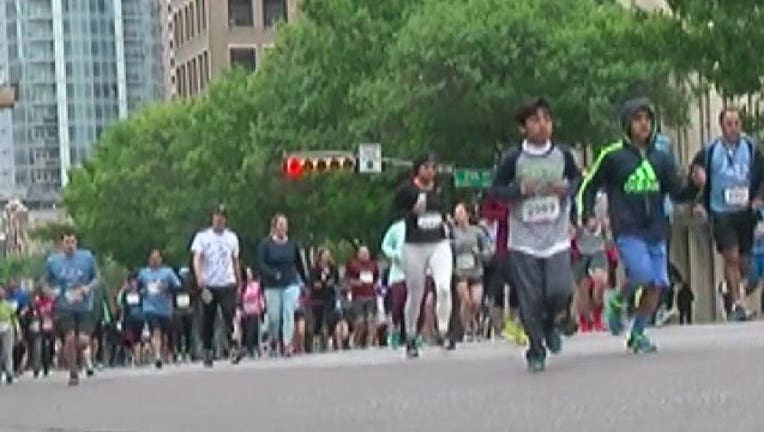 article
Runners put their best feet forward at Sunday's 41st annual Capitol 10,000 race.
It's become one of the largest 10k runs in the state of Texas, attracting thousands of people.
More than 23,000 runners woke up early in the morning to take part in the race. 
The start line began on the Congress Avenue Bridge and participants made their way towards the Texas State Capitol and wrapped up at Auditorium Shores. 
The chilly weather in the mid 40s made for great running conditions. 
"I know I run better when it's colder. I don't sweat as much and I feel like have more energy. It's actually a nice day for this," said Austin Batson. 
Live bands lined the race course, energizing participants as they ran by. 
"It's very energetic you can feel the vibes and it's incredible, it's Austin," said Lia Thimmig.
Thimming said it was her first time running the 10k and said her sister flew in from overseas to run with her. 
From beginners to seasoned runners, many athletes said they've been training for months upon weeks and wanted to make sure they put their best feet forward.  
"We run several weeks at 5 a.m. Tuesday and Thursday mornings. And every Saturday morning at 7 a.m.," said Magen Sparks. 
Since the race takes place in a city known for being weird some runners participated in a costume contest.
"It's a long story since we were little we would call each other little cows," said Lia Thimmig.
Runners came from all over the globe to enjoy one of the largest 10k races in the U.S.
It didn't matter if you were young or old, participants were encouraged to run it, jog it or walk it. 
Organizers said the money raised from the event will go back into the community and will help local non-profits. 
"It feels really good. I love running by myself but with other people it's just a lot more fun, it's more enthusiastic and I honestly do better with it. It's a really good sense of community and excitement," said Batson.