Screaming nurse arrested, dragged from hospital for refusing to draw blood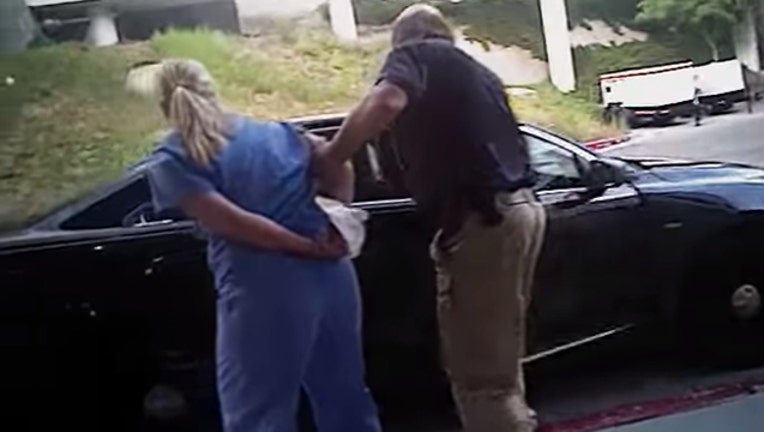 article
SALT LAKE CITY (WJBK/AP) - A Salt Lake City nurse was arrested and hauled out of the ER by police after she refused to draw blood on an unconscious patient.
Nurse Alex Wubbels told the Deseret News that she couldn't believe what was happening. She was working a shift as a charge nurse at University Hospital's Burn Unit on July 26. When Salt Lake police detective Jeff Payne demanded blood for an investigation related to a patient who had been injured in a car accident, she refused.
She told the officer a patient was required to give consent for a blood sample or be under arrest. Otherwise, she said police needed a warrant.
She can be heard on the video telling police that the patient can't consent to the blood draw.
The Deseret News said a truck driver was severely burned in a head-on crash with a vehicle that was running from police. The driver of the fleeing vehicle was killed.
The truck driver was comatose and sedated when he arrived at the hospital.
Payne was sent to the hospital by a different police agency and told to get the vials of blood. But, as Wubbels points out in the video, the driver was not a suspect, didn't face any criminal charges, was unconscious and couldn't give consent, and since the officer didn't have a warrant - Wubbels would not allow him to draw blood.
In the video, Wubbels is on the phone with supervisors as she talks to the police officer. She explains that she's doing what her bosses told her and even read from the hospital policy for blood draws.
Similarly, Payne is insisting that he's doing what he's told to do by his boss.
After threatening the nurse multiple times with arrest, he finally followed through after a supervisor on the phone told him he was "making a huge mistake". He grabbed for her phone, she pulled it away and he then followed her through the lobby of the hospital and handcuffed her outside.
You could hear the shock her voice from the police body camera video.
"This is crazy. This is crazy. Why is he so angry?"
The nurse was nearly in tears as she was led away in handcuffs by Payne.
"Stop! I've done nothing wrong!" She cried out as she was cuffed. She called the arrest unnecessary.
Watch the shocking video for yourself here. CLICK HERE if you can't see the embed:
She was later released from the handcuffs and no charges have been filed.
The chief of police in Salt Lake City called the video "very alarming", according to the Deseret News.
--------
Information from the Associated Press was used in this report.