Search begins where woman was found chained up 'like a dog'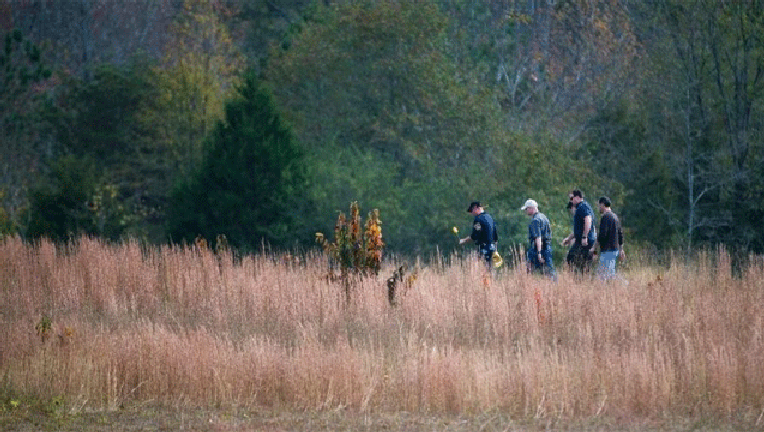 article
SPARTANBURG, S.C. (AP) — Investigators began searching for human remains Friday on a tract of South Carolina land near where a missing woman was found "chained up like a dog" in a large storage container.
Spartanburg County Sheriff Chuck Wright told reporters that authorities planned to excavate the area after cadaver dogs signaled the possible presence of remains.
The missing woman was found Thursday inside a container measuring about 30 feet by 15 feet. The sheriff said she told him the bodies of other women could be buried on the land owned by Todd Christopher Kohlhepp.
Kohlhepp, a 45-year-old registered sex offender with previous kidnapping conviction, has been arrested and charged with kidnapping. He was scheduled for a bond hearing Friday in Spartanburg.
The woman's boyfriend, 32-year-old Charles Carver, is still missing after the couple disappeared in late August.
Acting on a tip, deputies found the woman after hearing her banging inside the container in Woodruff, 80 miles northwest of the state capital of Columbia, the sheriff said.
The woman, who had worked for Kohlhepp, had a chain around her neck, Wright said. She told deputies she had been kept in the container for two months and had been fed regularly.
Anderson Police Chief Jim Stewart said his department's investigation into the couple's disappearance led authorities to the property near Woodruff.
"We got computer and cellphone records that ultimately led us to the area in Woodruff," Stewart said. "We knew that was the last place that a cellphone tied to this case pinged."
Records indicate Kohlhepp is a licensed real estate agent and licensed pilot. As a teenager, he was convicted and sentenced to prison in Arizona for kidnapping and dangerous crimes against children.
Referring to the possibility of other victims, the sheriff said: "We're trying to make sure that we don't have a serial killer on our hands."
South Carolina's sex offender registry lists a 1986 kidnapping as the reason Kohlhepp is in the database of sex offenders. It indicates he was a juvenile offender.
Matching online prison records from Arizona show that Kohlhepp served about 14 years for the felony and was released in 2001.
The Arizona records show the kidnapping happened in November 1986 in the Phoenix area. He was convicted the following year.
The records do not elaborate on the crime, but do list some violations while Kohlhepp was in prison. The records say he destroyed property and fought with others while incarcerated in 1988 and 1991.
___
Associated Press writers Jack Jones in Columbia, South Carolina; Jonathan Drew in Raleigh, North Carolina; and Paul Davenport in Phoenix contributed to this report.
Read Sex offender reportedly in custody after missing SC woman found 'chained like a dog' in metal..