Search for suspects who held jewelry store employees at gunpoint
AUSTIN, Texas - Right now, police are looking for several men who robbed jewelry store employees at gunpoint in North Austin yesterday.
The owner says police told her if it weren't for her very high-resolution cameras, the aftermath could have been much worse. The thieves were caught on multiple cameras in and outside of the store.
"He says you have to give me all the jewelry or I will kill you." Yisel Guerrero says she's still in shocked, this happened at her store.
"Just one minute I couldn't believe just one minute they took half of our inventory," she says.
Guerrero says around 6:25 on Sunday night, two men rushed inside Iris Jewelry on Parkfield Drive in North Austin, right before they were about to close. The jewelry store is attached to a laundromat. "He jumped in the window with the gun, the other one he has a rifle and pointed all the customers outside. They took the jewelry he was very nervous. My other employee, she was inside of the safe," Guerrero says.
Guerrero says the gray-colored SUV is going back and forth waiting on the others inside to get the job done. The two men exit the store hop in the SUV and they all speed off, but the damage is still left behind. "The other lady there's a lot going on in her mind, nervous like it's her last day. One of the ladies she feels really bad she feels like she has trauma she says she needs to go to therapy," she says.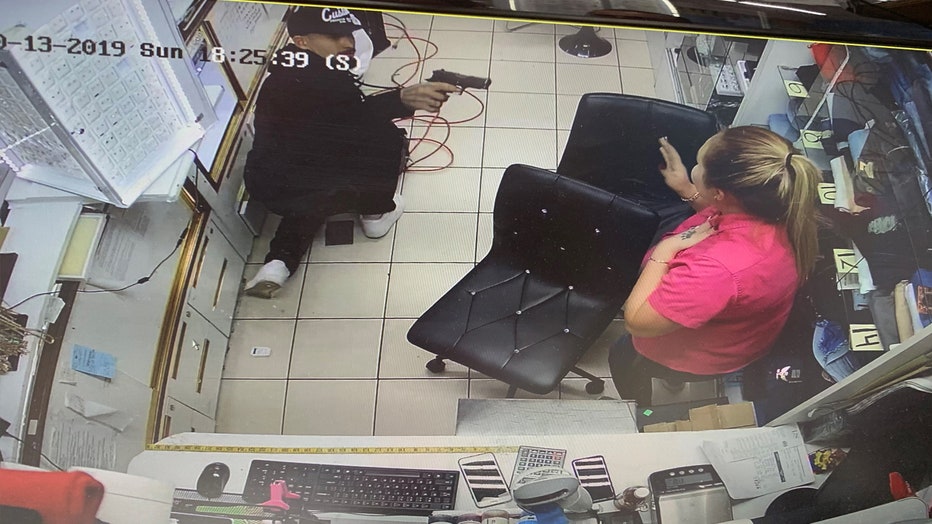 (Austin Police Department / FOX 7 Austin)
Guerrero says money was taken and half of her store inventory worth thousands and thousands of dollars.
She says this same store under different ownership was robbed in 2014 by different people.
She says she thinks Austin is becoming more dangerous. "I think they were watching us because in the video I can see one guy he walked up and another guy was just walking around. 3 guys maybe 3 or 4," she says.
Guerrero gave us these photos; you can see clearer images of the people involved.
In the meantime, she says she too fears for her safety.
Guerrero says she thinks these people will do it again with a different store - so she will feel better once they're caught.
If you have any information you're asked to call Austin police immediately.