Second baby eagle dies in Iowa nest connected to webcam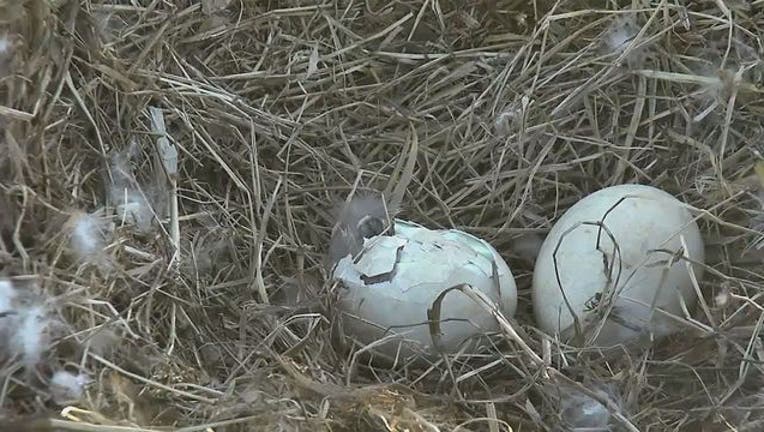 article
DES MOINES, Iowa (AP) — A second baby eagle has died in a northeastern Iowa nest that people around the world watch online through a webcam.
The eaglet died of unknown causes Wednesday in a "backup nest" at an undisclosed location north of Decorah, Iowa, the Des Moines Register reported. The bird's death came two weeks after another eaglet of a trio that hatched earlier this spring died.
Raptor Resource Center Executive Director John Howe said he is consulting with the U.S. Fish and Wildlife to determine if the eaglet can be retrieved from the nest for testing.
The nonprofit began monitoring and streaming the nest earlier this year after the main nest blew down in a storm. The primary nest has since been rebuilt.
Howe shut down the video feed after the second eaglet's death. He said some people have said the public should be allowed to see the good and the bad of the eagles' lives, but he thought that the nonprofit shouldn't subject viewers to the birds' suffering.
Howe said the eagles' lives have been recorded for science, not entertainment.
At the time of the second eaglet's death, the mother also appeared sickly as she panted and displayed signs of distress. But the eagle recovered overnight and has since been flying over the nest.
"It may be related to what happened with the eaglet," Howe said. "We probably will never know until we get that second body but it's unlikely."
The first eaglet's cause of death also remained unknown, though the bird was smaller and had developmental differences.
Howe said he doesn't suspect foul play in either of the eaglets' deaths because few people know the location of the nest. He also said that the behaviors of the eagles don't indicate that they were poisoned with lead.
___
Information from: The Des Moines Register, http://www.desmoinesregister.com