Severe weather threat for Central Texas and surrounding areas
AUSTIN, Texas - Nearly 19 million people in Texas, Oklahoma, Louisiana, and Arkansas are asked to stay prepared as there is an enhanced threat of storms. That includes most of Central Texas.
MOBILE USERS: CLICK HERE FOR LIVE LOOK OF STORMS ROLLING IN
READ MORE: 'Significant' severe weather event, including tornado threat, for millions across South
As people prepare for the possibility of severe weather, Governor Greg Abbott has placed several state resources on standby.
Several local agencies, like Austin-Travis County EMS, are also preparing for what could come as the weather is expected to hit later this afternoon. ATCEMS says at least a dozen personnel are on standby as severe thunderstorms, powerful wind gusts and possible large hail could all be part of the mix.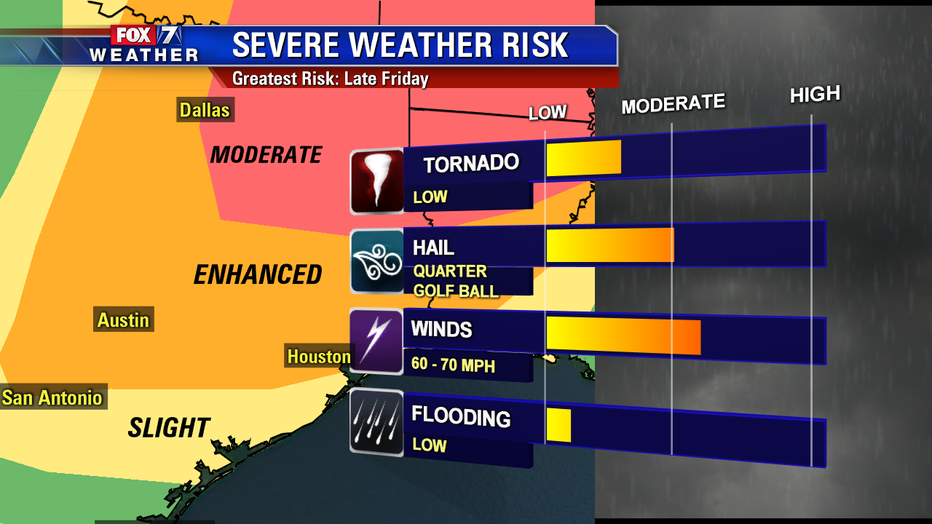 According to FOX 7 meteorologist Zack Shields, we are at 'LEVEL 3' on the severe weather outlook.
As the cold front along with the potent upper low collides with the warm and humid air, the rain and storm chances increase this evening between 5 and 11 pm. Much of the area now is under an enhanced risk for severe storms, according to Zack Shields. Some of these storms will have the chance to generate large hail and damaging winds. 
Some of these storms will have the chance to generate large hail and damaging winds
In anticipation of the inclement weather expected, Austin ISD says all districtwide after school activities are canceled. This includes athletics, after-school care and any other events.
It's a nervous time for some Central Texas communities which are still recovering from severe weather that hit last year. 
Many, especially in La Grange, are keeping an eye out. "Everyone always gets a little frantic when a tornado is predicted to come through, I don't want to say we are worried about it but we don't want to get set back again," said Jeremy Conard, the worship leader for the First Baptist Church of La Grange.
If you haven't done so already, download the FOX 7 WAPP to stay up to date on what's happening if and when severe weather hits your area. You can do so by clicking here.