Some San Marcos residents lose everything in flood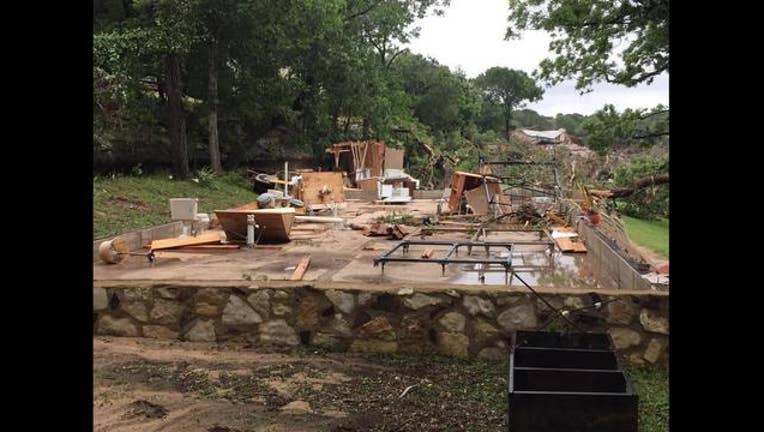 article
The Blanco River crested above 40 feet this weekend. More than double the flood stage of 13 feet.
"It was a major catastrophic flood, one that people who have been in the area for 25 and 30 years have never seen before I'm told," said Laureen Chernow, Hays Co. Communications Specialist.
Chernow says the Emergency Operations Center was activated Saturday night and agencies from all over the area have been helping out with rescues.
"The National Guard has also brought in 7 helicopters for rooftop rescues and DPS also has a helicopter on the scene," she said.
Chernow says more than 1,000 people in Hays County are displaced, 400 homes destroyed -- hundreds more damaged.
The county is implementing a curfew from 9 Sunday night until 7 Monday morning.
"Primarily the roads are extremely dangerous. We don't want people interfering with continuing rescue operations, that's a big concern as well," she said.
We ran into Senator Donna Campbell from New Braunfels offering her assistance at the command center.
"Anything that displaced people from their homes is a tragedy. And this is the time when communities can come together and help. That's what we're meant to do," Campbell said.
Evacuees in the area were sent to the San Marcos Activity Center. Debra Diaz is there with her family.
"When we opened the door the water was gushing into the house. So I lost everything in the house and lost my new car...I just got," Diaz said.
Diaz says even though her brand new car and everything in her home was destroyed, she's thankful to be at the shelter with the ones she loves.
"You know I learned materialistic stuff comes and goes. People can't. You can't bring people's lives back so that's more important to me. So as long as I have all these people here with me then I'm fine," Diaz said.