South Tampa man shoots at suspect accused of attacking woman on evening walk
TAMPA, Fla. - A woman suffered facial injuries and a concussion after police say she was attacked last Friday evening while walking through a South Tampa neighborhood. 
According to the Tampa Police Department, the victim, a woman in her 30s, was walking down W. Watrous Avenue near S. Oregon shortly before 7 p.m. when the suspect, later identified as 34-year-old Esja Nodopa, began following her. 
"I love my walks," the victim, who asked that we only identify her as Taylor, said. "So to have somebody steal that innocence from me and attack a space that is safe and beautiful for me is very hard to process."
READ: 13-year-old with criminal history arrested after shooting Lakeland officer in the foot, officials say
Taylor told FOX 13 that she first saw Nodopa while walking on Bayshore Boulevard on her way to a sauna studio. On her way back from the studio, she was listening to a podcast while walking through Hyde Park when a car slowed down next to her. 
The driver, she said, "started signaling aggressively to look back and run." She saw Nodopa coming at her "aggressively." Taylor said she took off running and threw her phone, thinking he just wanted to rob her. 
Police say Nodopa pulled the woman's ponytail from behind and punched her in the face several times, knocking her to the ground. 
"He didn't want my money. He just was coming for me," Taylor said. "He ended up grabbing my ponytail and threw me onto the ground and just punched me in the face over and over."
MORE: Missing Florida teen who was 4 months pregnant found dead in Alabama; 1 arrested
Eventually, she heard the voice of Charles McKeon, who was walking home from dinner with his wife and son when they heard the woman's cries for help. 
"I drew my weapon and yelled at him to 'Get off of her, get off of her. I will shoot,'" Charles, who was armed, said.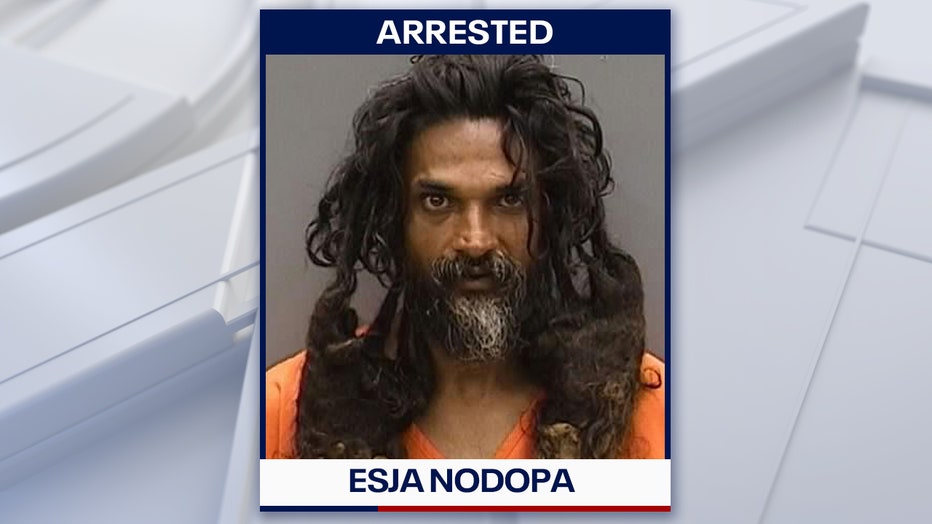 Esja Nodopa mugshot courtesy of the Hillsborough County Sheriff's Office.
The man in his 60s tried to help the woman, but police say Nodopa punched him and knocked him to the ground. That's when, according to TPD, fired one round at Nodopa in self-defense. However, police say Nodopa was not struck or injured by the bullet. 
"I missed. I'm glad that I did, because he left me no option at that point," McKeon said. "You never want to take someone's life."
Dalton McKeon, Charles' son, stepped in to help his father when Nodopa came at them again.
PREVIOUS: 1 shot and killed at Riverview gas station, Hillsborough deputies say
"He started saying something to God, something about God to me and my dad. And just walked away," Dalton said. "Just happened so quickly. It was over in a matter of like 30 seconds or a minute." 
After Nodopa finally walked away, Charles said he followed him from a distance while on the phone with police, relaying his location. That's how officers were able to make the arrest near Rome Avenue and Bayshore Boulevard.
Charles and Taylor have spoken since the incident.
"'Thank you' seems inadequate, because I cannot fathom why anybody would jump into a situation like that," Taylor said. "He didn't know who I was, and yet he was willing to help me. So I thanked him the next day."
"We just reacted. And I mean, although she got beat up pretty bad, I'm just glad it's not worse," Dalton said. 
Nodopa has been charged with one count of aggravated battery with great bodily harm and one count of battery.
"That, I won't ever do it again. I won't walk with my AirPods in even if I think it's the safest neighborhood," Taylor said. "I'm aware that evil people are out there."