Spamarama returns! One of Austin's weirdest festivals draws in hundreds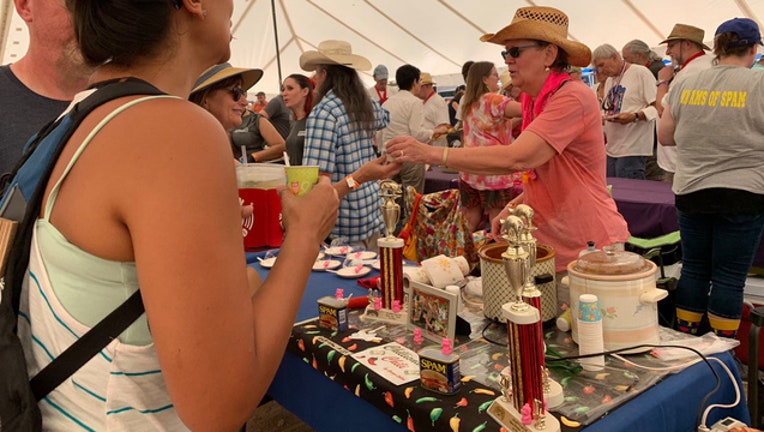 article
AUSTIN, Texas - One of Austin's weirdest festivals is making a comeback after a 12-year hiatus. Spamarama began in 1978 as a joke between two friends who thought there were too many chili cook-offs and said the real challenge would be making dishes with spam.
Back in its Heyday, the event drew in thousands to Auditorium Shores with Spam cook-off's and the Spamolympics. Overtime, the festival had a change in leadership and lost momentum.
Saturday, hundreds packed into the Moontower Saloon in South Austin for a taste of creativity, athletic competition and live music. Tom McCormick dug out his t-shirt from the early 2000's to commemorate Spamarama's return. "It's been 12-years we used to go all the time, so we had to come back," McCormick said. "I like Spam if you fry it up with eggs or fried potatoes or put it in a sandwich my favorite part of eating spam is eating spam in front of people who don't like it."
The Odom's also brought their three-time "Best of Taste" spam chili to the table. "Go out and get crazy and see what we can do with spam another way to keep Austin weird," George Odom said.
Mike Myers traveled a thousand miles to compete and walked away with "Best of the Best" and "1st place showmanship." Myers said he won it in honor of his late brother John who won first place at Spamarama in the past. Myers said he hopes this year's festival will ignite the passion for Spamarama again and continue to Keep Austin Weird.